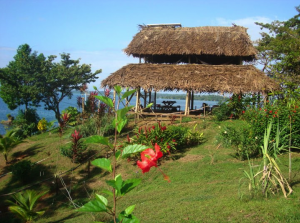 (Panama Digest) When Daniel Ayora returned to his Rana Verde ecolodge on Cayo de Agua island in Bocas del Toro, he found that someone had burned it to the ground.
According to Ayora, an Italian-American, 80 uniformed officers arrived to the lodge to evict people from the premises, although it was not clear how the fire started.
"My life savings were invested in the property," Aroya told El Siglo. "I don't have anywhere to go, they've taken everything from me."
The issue is rooted in a land dispute, something not so uncommon in the Bocas del Toro islands and other areas of Panama.
In 2003, Aurelio Beker, an area resident and indigenous Indian, sold Ayora seven acres for $30,000 and his other 217 acres to Cirilo McSween Jr., son of the famous Panamanian track star, civil rights leader and businessman Cirilo McSween. McSween's lawyer, however, says that when Ayora did not complete payment, McSween bought the seven acres.
Meanwhile, Ayora told El Siglo that McSween is working with authorities to get him off the land.
Neither Ayora or McSween had been reached for comment at the time of this post.