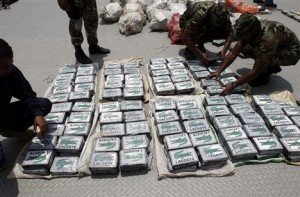 (Prensa.com) Two men were arrested on Saturday night when members of the National Air-Naval Service (Senan) carried out a high-speed chase after a suspicious boat in the Naranjo River sector, near the community of Puerto Pilón in the district of Cativá (Colón province).
The boat crashed and sank, after which officials were able to recover nine bags of illicit drugs that were being transported on the boat, Senan reported in a statement.
The coastal patrol boat was in the midst of performing a routine patrol run when, upon spotting the suspicious boat, they began to pursue it, causing it to crash near Naranjo Island, according to the official report.
Meanwhile, in the early hours of Sunday morning, authorities, with the help of specialized divers, continued the process of retrieving the packages of suspected drugs, in hopes of recovering all the packages.
Senan officials are expected to give a more detailed account of this case during a press conference scheduled for today, Monday, at the headquarters of the entity.