(Remezcla) Sech and his team, otherwise known as El Bloke, are throwing a music festival in Panama for Carnaval, which runs through the last week of February and into March in a few provinces. It's summer on the isthmus right now (cries in New Yorker), so the five-day event is fittingly titled El Bloke Summer Fest.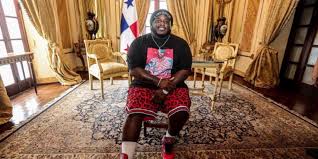 The guys have slowly rolled out festival details, including the lineup. Aside from the fact that there are no women listed (despite there being plenty of comparable talent to chose from), the already confirmed group of performers includes a healthy array of local and international blood and is bound to be one hell of a good time.
A passionate commenter jumped in and asked: "Will you give new kids an opportunity to get up on stage?"
Sech came in with the swift response and confirmed, "Claro que si." New, promising Panamanian urbano artists like Boza (recently signed to Sony Music) and BCA (frequent Sech collaborator) will join the likes of locally revered and bumped artists like Yemil and Chamaco. DJ's like producer Dimelo Flow and of course, Rich Music family and friends like Justin Quiles, Lenny Tavárez, De La Ghetto and Arcángel will make an appearance as well.
On Sunday, private audio between Sech and a financial advisor leaked on social media. The unnamed advisor wanted Sech to do away with the idea and let someone else take over, according to Crítica.
Sech quickly dispelled the rumors and realized he had a point to prove. The first 500 tickets sold out in the first two hours.
"I swear I won't let [them get to me]," Sech responded to a fan in Spanish. "Vamos a demostrar que el pueblo lo logró."
The team is tirelessly working to build stages and put together all the moving parts for the fast-approaching event.
El Bloke Summer Fest will take place in Las Tablas, Panama from Friday, February 21 to February 25. VIP tickets are currently on sale for a very reasonable $100 and General Admission tickets will be available soon.