(Eye On Panama) One of the most common frustrations among those that have moved to Panama from other countries is a lack of customer service.  Individuals who have taken same day service and strong work motivations for granted, are frequently dismayed that the same standards are not universal values in Panama, nor frankly, in other tropical destinations.  While many of the expats that I have met are vocal about the tropical work ethic, seemingly few look to the underlying reasons for the difference in standards, and almost none set out to create a remedy.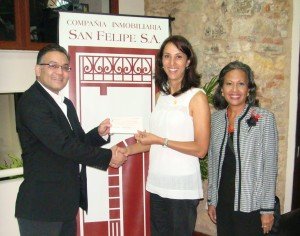 The CAPTA Program of Fundacion Calicanto in Casco Viejo is a shining example of a group heeding Marcus Aurelius' famous advice to "look to the essence of a thing."   Hildegard Vasquez, the foundation's president,  and her team intend to create a stronger workforce from what many would consider the country's toughest raw material–under-privileged women from urban slums–by going to what they believe is the root cause for poor service: lack of self-esteem.
Most of the women selected for CAPTA have little or no work history, training, or education. They are women who live in deplorable situations.  They have been ridiculed, scorned, used, abused, and exposed to nearly every vice.  To say they have crippling issues, is less insightful than an obvious fact.  What is insightful is that those accepted into the program have a sliver hope. Hope that they can provide provide a better life for their children and themselves.  It is a place to start.
During my visits to Panama, I have been concerned about the plight of the poor that live in Casco's old buildings that by any civilized standard are an unfit residence.  I have also wondered, what happens they are kicked out of these buildings which are their home?  Is there any opportunity for them to become part of the emerging new Casco community?  Has anyone thought about what training will transition those who have lived in Casco's rubble to be its  workforce?  Would solutions to these issues be found that did not simply displaced the individuals, I wondered  with a concern based on a long career in developing training programs for disadvantage populations.   When Evan sent me the Fundacion Calicanto video, my interest was peaked.  I was anxious to learn more about their hotel maid training program for the women of this neighborhood.  The time I spent getting to know the CAPTA program with Evan and Fundacion Calicanto board member and local entreprenuer, KC Hardin, turned out to be a highlight of my stay in Casco.
One of the most impressive elements of the Fundacion Calicanto's CAPTA program is that it is far more than a hotel maid training program.  Rather than ignore the plight of their candidates, CAPTA begins by taking on the issues the women share.  The first 4 weeks of the program are spent developing personal skills. They learn about  nutrition, hygiene, first aide, household budgeting, appropriate dress, and personal safety.  They learn to learn,  gain self reliance, and developed leadership skills as they become knitted together as a support group that reinforces expectations of attendance and participation.  At the end of these weeks, they are  are prepared to complete the second phase which is the Bern Hotel Training Program in Panama City confident of success. There they will learn housekeeping techniques and customer service.  Those completing this phase will find a waiting job market for their new skills. It is impressive that  nearly 90% of the women that entered CAPTA complete the entire program and find permanant employment.  Each worked hard to overcome the obstacles that stand in the way of their success and gain new skills.  All should be very proud of the accomplishment.