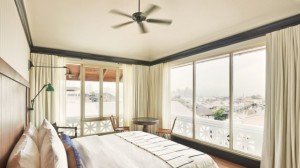 (Traveller) Casco Viejo, the old quarter of Panama City, has gone through more cycles of boom and bust than Wall Street. Settled in 1673 after the English pirate Henry Morgan sacked and torched Panama Viejo down the road, Casco spent nearly 300 years as a centre of prestige for the city. By the 1950s, however, things had taken a dramatic dive; wealthy residents fled to the suburbs because Casco's streets were too narrow for their new cars. Eventually, urban decay turned the neighbourhood into a mouldering ruin, controlled by street gangs from the once-prestigious American Trade Developing Company building, which came to be known colloquially as "Castle Greyskull".
You wouldn't guess any of this today. Casco Viejo, reinvigorated by a UNESCO World Heritage designation in 1997, is now abuzz with fresh construction, its Spanish colonial buildings touched up to near-Disney perfection. Everything old is new again, from the cobbled streets to overhanging balconies. The best example of this is on Plaza Tomas Herrera: At the end of 2013, "Castle Greyskull" became a Moroccan tile and tobacco plant fantasia called the American Trade Hotel.
This is the sort of place I imagine when I read a Graham Greene novel. Giant glass windows fog up with the hot condensation of the tropics. Cane-backed rocking chairs sit beneath elephant ear palms in the lobby. There is a stunning rooftop pool, a stone's throw from a church belltower, and the surface ripples with trade winds in the afternoon. You can order good Cafe de Eleta espresso and pass the time watching Panamanian women sell lottery tickets and plantains on the street below. The property excels at creating atmosphere; even its emptiness (at least when I visit) can feel transportive, like your own vast palace with a full retinue of staff.
The American Trade Hotel is the product of a partnership between Atelier Ace, the team behind the popular Ace hotels in the United States, and Panama City-based Conservatorio, a real estate development company that has been a major force behind the renewal of Casco Viejo.
What makes this partnership particularly interesting is how it engages the city outside. Panama can seem inscrutable to foreign visitors: Beyond the canal, what is there to actually see here?
K. C. Hardin, president of Conservatorio, says one of the hotel's intentions has been to sift through the cultural landscape "and let the best stuff rise up and find a home". Instead of exploiting a destination, the hotel is trying to make one, corralling the country's finest offerings – food, art, music – beneath a single roof. Danilo's Jazz Club is the most immediate example of this, fulfilling the life-long dream of Grammy-winning Panamanian jazz pianist Danilo Perez to bring a world-class venue to Panama. Tucked next to the lobby bar, its black velvet moodiness offers a sublime nightcap after a stroll around the neighbourhood.
Like all Ace properties, the American Trade Hotel also features an on-site "cultural engineer", whose job it is to facilitate interactions between the hotel and the wider community.
Helmy Membreno has his work cut out for him in Panama: Despite being the crossroads of the Americas, it's often overlooked as a travel destination. One of the things Membreno is trying to do with the hotel, he explains, is "develop an excursion program that is weird and cool and a bit National Geographic" – an excursion program to show off Panama's rich diversity.
This is how I find myself flying through the pre-dawn darkness to San Blas, a Caribbean archipelago of 378 islands occupied by the Kuna Indians. Membreno teams me up with Estefania Gamarra, a glamorous Bolivian girl who acts as a broker for sailboats in the region. Several years ago, Gamarra traded a box of vegetables for passage on a boat between Colombia and Panama. She fell in love with San Blas and ended up staying for nine months, living in a thatch hut on a beach and befriending Kuna and members of the sailing community, who she refers to as "nomads of the sea".
Gamarra takes me to visit Kuna villages, on islands so perfect – white sand, bent palms – I'm still not entirely convinced I didn't hallucinate them. We examine everything from "molas" (intricate embroidery) to Kuna mortuary rituals. And then we go sailing, arcing past windswept beaches and skirting the tops of vibrant reefs in a yacht called the Esperanza. Lunch is with an Italian television producer who spends much of the year drifting around the world in a multimillion-dollar catamaran. "All the good things in life," Gamarra says at one point. But there's nothing affected about this; what she and Membreno want me to see is "the life of these people", the culture of San Blas and the ocean nomads.
When Gamarra lived in her hut on the island of Chichime, visitors would sometime ask her if she ever got bored. "But you cannot get sick of this," she tells me.
The next day I'm back in the American Trade Hotel, nursing a gin and tonic near the restaurant. Membreno slides into the seat opposite. "How was it?" he asks. The hotel is good. The rest leaves me speechless.