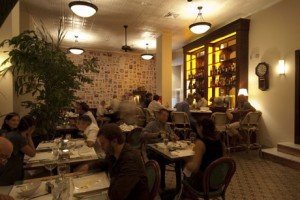 (Today's Chicago Woman) For some tourists, food is merely sustenance and eating something they do in between treks to a city's or region's famous sites. But for other curious travelers, it's a lens through which they experience a place's unique culture.
During my first trip to Panama City, capital of the strategically located land bridge that connects North and South America, nothing typified the global nature of this world-class city like its cuisine, influenced for centuries by the intersection of Spanish, French, Native American, African and Caribbean cultures, to name a few. And it gave me a deliciously authentic glimpse into the fascinating metropolis that nearly 1.4 million people call home.
Slightly smaller than South Carolina, the Spanish-speaking country of Panama borders both the Caribbean Sea and the North Pacific Ocean, housed between Costa Rica on the north and west, and Colombia on the south. Panama City lies on the eastern shore of its most popular attraction, the Panama Canal, which contributes mightily to its dollar-based economy – and to its status as a center of global trade.
More than anything, this is a city of contrasts, where chic international eateries are housed across the street from 24-hour diners serving traditional Panamanian fare. Where über-sleek skyscrapers and immense international wealth stands mere minutes away from Third World shanties and shocking poverty. Where vividly colored "Diablo Rojo" city buses resembling the Partridge Family's ride share the streets with 21st century Metro Buses that would be at home in any world-class town.
A transportation, business and cultural hub thanks in large part to the globally important Panama Canal linking the North Atlantic and North Pacific Oceans via the Caribbean Sea, the city appears to take all this evolution in rhythmic stride. The contrasts co-exist here, gently shifting and swaying while sexy, sophisticated Panama City keeps busy reinventing itself in its own image.
And with a skyline that more closely resembles New York's or Dubai's (much talk surrounds the brand-new, 70-story Trump Ocean Club, International Hotel and Tower on the shores of the exclusive Punta Pacifica district) and its historic Casco Viejo 'hood, a UNESCO World Heritage Site, Panama City continues to stretch itself. A metro system is planned for completion by 2014, and its legendary Diablo Rojo buses are being replaced with a modern-day fleet.
Steamy climate, sophisticated cuisine
Upon arriving in Panama City, you're smacked instantly by a wall of humidity, one that makes so-called steamy Chicago summers feel downright frigid. It takes a couple days to adjust to the feeling of constant steaminess here where nights are balmy, no jackets required. There are two seasons: rainy (from mid-April to mid-December) and dry (from mid-December to mid-April), which, not surprisingly, also is "high season" for tourists.
But whenever they visit, no adventurous visitor to Panama City can claim culinary boredom. Whether you're staying in the high-rise-lined Banking District or doing the colonial thing in gentrifying Casco Viejo (also called Casco Antiguo and San Felipe), you'll find an embarrassment of riches when it comes to cuisine.
The elegant Madame Chang (Avenida 5A and Calle Uruguay) is housed in the modern El Cangrejo district, and is known as one of the city's best destinations for Chinese food in a city that's touted as having some of the best such cuisine outside of China. Graceful service stars along with incredibly fresh menu items such as Ginger Prawns. And don't miss sampling this spot's trademark Peking duck.
Newer on the Panama City culinary scene – and a standout all around – is Rausch Restaurant in the recently opened, gorgeous all-suite Hotel Esplendor in the city's Banking District. The brainchild of award-winning Colombian chefs Jorge and Mark Rausch, this minimalist spot features first-class French cuisine that would earn kudos in France, let alone in Latin America. The chefs take liberties with French classics, putting uniquely delicious spins on beef bourguignon and escargot, creating a snails-and-mushroom fricassee out of the latter and tucking it inside a scrumptious puff pastry. After savoring these dishes, you'll want to stretch out in the Esplendor's luxuriously roomy suites, of which only three occupy each of the hotel's 42 floors.
It's hardly fancy, but down-to-earth foodies should make a pilgrimage to Mercado de Mariscos (Avenida Balboa and Calle 15 Este). It's where city residents to go buy seafood so fresh you'll bump into fishermen carrying in their catches. While there's a casual sit-down restaurant upstairs (serving the same just-out-of-the-water-fresh fish), don't miss the market's paper cups of fresh Panamanian ceviche, which start at just $2. I fell in love with the Mediterranean mixed version, with calamari, corvina (sea bass), shrimp and scallops mingled with green olives and colorful peppers in a tomato base.
Nearby and pedestrian-friendly Casco Viejo lets you ditch taxis for a spell. This is a place best experienced slowly – largely because of the heat – and on foot. Area residents toss out genuine "Buenos" and "Buenas" (short for "Buenos días, buenas tardes or buenas noches) as you stroll past, making you feel comfortably welcome. But despite its charms, Panama City dwellers will admit that Casco isn't for everyone. Some tourists are put off by seeing yet-to-be-restored building shells standing next to gloriously renovated colonial mansions, by the often-festive music playing and impromptu street fiestas that last into the night. Yet, Casco is home to some of the city's most buzz-worthy restaurants.
Among the most renowned is Manolo Caracol, which feels like a far more affordable Spanish version of Chicago's own Alinea. Andalusian-born chef Manuel Madueño offers a seasonal, always-changing fixed-price menu of nearly one dozen courses (an incredible $30!), ranging from a colorful tuna ceviche to jalapeño-crusted prawns depending on the night. And speaking of Spain, the cozy, comfort-food driven Las Clementinas Café & Bar features the Panamanian-Caribbean creations of Chef Javier Lamarca, an alumnus of Spanish Chef Ferran Adrià's famed Michelin three-star restaurant, El Bulli. Las Clementinas, whose Sunday brunch is legendary and features a changing menu of omelets (such as Serrano Ham, Manchego and Tomatoes in Olive Oil), empanadas (with Creole-style Panamanian Jerked Beef) and risottos, stands on the ground floor of a gorgeous six-room boutique hotel of the same name. Travelers looking for first-class comfort in Casco also can stay at The Canal House, a restored colonial mansion meticulously run by Las Clementinas' owners.
Other don't-miss international eateries in Casco, include Casablanca, housed in an antique hotel on the delightful Plaza Bolivar. With great people-watching tables across the street and cozy, rustic tables inside, this popular spot often features live bands whose music goes down as easily as the eatery's sangria. Trademark sancocho, a flavorful soup considered Panama's national dish made with chicken, garlic, yams, yucca or potatoes, cilantro and often served alongside a bottle of hot sauce, as well as a most unique paella flavored with coconut milk and curry, are favorites here.
The cuisine at recently opened and loft-like Rustica (Calle 1, near Plaza Francia) borrows from its owner's Argentine and Italian roots, with a range of stuffed empanadas, traditional pastas and crispy-crust pizzas served in quarter-, half- and full-sized square portions.
This weeklong visit to Panama City felt like a tease – a scrumptious appetizer, if you will. I can't wait to sample this fascinating place again, returning for a main course and of course, dessert.
Getting There
There currently are no direct flights from Chicago to Panama City. Thankfully, that will change come December 15, when Panama's own Copa Airlines will begin daily nonstop flights. Boeing 737-700 Next-Generation airplanes will fly from O'Hare International to Tocumen International Airport, just outside Panama City.
Until then (or if your frequent-flyer miles are on other carriers) you can fly American Airlines from O'Hare with a connection in Miami (each flight is about three hours). United and partner Continental will get you there through Houston; United also makes connections through Newark. Delta will take you through Atlanta; if you prefer to stop in Mexico City, Aeromexico is the way to fly.