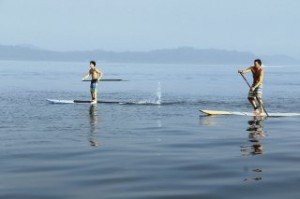 (prensa.com) In recent years, surfing has gained greater prominence in the country. Even Panama last hosted the World Masters, which took place in the Santa Catalina.
Perhaps this could have been the main factor for different athletes acquire new skills and methods in water sports, such as the stand up paddle surfing, or paddlesurfing.
This discipline is standing on a surfboard and gain further momentum in the water with an oar.
There are those who practice it simply to compete in speed, and who also built the paddle in the waves.
Although not widely known in Panama, there are already national athletes who have participated in international competitions.
Such is the case of Ricardo Chiari, who competed at the Stand Up World Tour 2011 in February in Sunset Beach, Hawaii.
Besides Chiari, who was the first Latin American to have participated in such a big event in this discipline, there are other athletes in the country that have begun to incorporate paddlesurfing between your sport.
The Electoral Court judge Gerardo Solis has traveled several times with his son the stretch between Flamengo and Taboga Island, 13 miles away.
According to Solis, the idea is to practice as a hobby until it becomes a boom in Panama and the establishment of a national circuit.
FROM HAWAII
This method was invented around 1960 in Hawaii, where surfing instructors were standing in their respective tables to observe the technique of their students. Since then, began to gain popularity.
Last updated: January 30, 2012 at 0:24 am