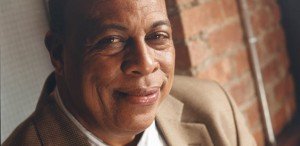 (Jazziz.com) The line-up for the Ninth Annual Panama Jazz Festival, set to take place from January 16-21, 2012, has been announced. Among the headliners are a Cuban duo composed of renowned vocalist Omara Portuondo and Chucho Valdés (pictured above), John Scofield, Tito Peunte, Jr. (who will appear with the Panama Jazz Festical Ensemble), Louis Bonilla and Charlie Sepulveda. Attracting more than an estimated 100,000 people since its inception, this year's festival is dedicated to tenor saxophonist Carlos Garnett, one of the most prolific Panamanian-Americans in jazz, known for working with artists such as Miles Davis, Charles Mingus, Art Blakey and others.
"For a week in January, Panama is the capital of jazz in Latin America," says the festival's founder and artistic director Danilo Pérez. "The festival continues to flourish and is now becoming an event that is a cultural reference in Latin America, with some of the biggest supporters of jazz music on the planet." Reflecting on this year's honoree, Pérez says, "Carlos Garnett is one of the best jazz saxophonists that came from Panama, who has played with some of the most important icons of jazz."
Born and raised in Red Tank, Panama Canal Zone, Garnett taught himself to play saxophone as a teenager and played with soldiers from the nearby United States Army base. He moved to New York City in 1962, where he began to teach himself music theory (originally playing music by ear). In 1968, trumpeter Freddie Hubbard hired Garnett, introducing him to many distinguished New York-based jazz musicians. Hubbard's 1969 album A Soul Experiment served as Garnett's first recording session, contributing two compositions to the project. His career took flight following the session, working with Andrew Hill, Blakey's Jazz Messengers, Davis and Mingus, through the mid-1970s. He also recorded three projects as a leader during the same time period, which collectively featured artists such as Dee Dee Bridgewater, Billy Hart, Norman Connors, Buster Williams and Anthony Jackson. In 1982, Garnett took a hiatus from music for personal reasons until 1991. He then returned with a new group and released several albums as a leader in the 1990s. In 2000 he moved back to Panama, where he continues to contribute to the country's music community.
Garnett is the festival's second living honoree; the first was trumpeter Victor "Vitín" Paz, celebrated at last year's festival. Garnett will actively participate in educational programs/events.
Previous festivals have been dedicated to figures such as pianist Luis Russell, who worked as the music director for Louis Armstrong's band beginning in 1935; pianist Victor Boa, known as the "Master of the Panamanian Keyboard"; flutist Mauricio Smith, who performed with a variety of musicians ranging from Mongo Santamaria to Charles Mingus; vocalist Barbara Wilson, whom Pérez once called "the Billie Holiday of Panama"; and composer and bassist Clarence Martin Sr., who influenced several generations of Panamanian musicians from a wide range of musical styles.
For more information, go to www.panamajazzfestival.com.