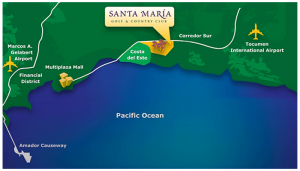 (Bizjournals.com) Scottsdale-based Troon Golf has expanded its international presence yet again this year — this time in Central America.
The golf course management firm has been selected to manage the new Santa Maria Golf & Country Club in Panama City, Panama, which opened the first half of its 18-hole golf course last month with the remaining nine holes slated to wrap up by 2014, according to a company statement Monday.
The 700-acre Santa Maria is the second property in Panama that Troon now manages — the other being Buenaventura Golf Club, It is one of several properties the Scottsdale firm has added this year to its management portfolio, such as the Quba Golf Club in the Middle Eastern country of Azerbaijan and the Aliante Golf Club in North Las Vegas, Nevada.
"Panama City is a growing golf destination and we are thrilled to play a role in attracting members to this extraordinary destination," John Easterbrook, executive vice president of operations for Troon, said in the statement.
The Santa Monica course is being designed by Nicklaus Design, the firm founded by pro golfer Jack Nicklaus, and will encompass 7,196 yards from the back tees as well as four tee locations. The country club will also include a fitness center, swimming pools, racquetball and tennis courts and separate amenities for children.