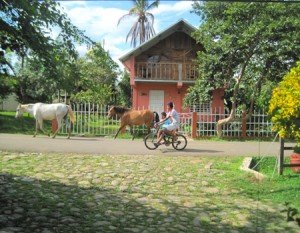 (International Living) Mitzy and Bill Martain moved to Santa Fe, Panama from North Carolina in search of a simpler, yet better lifestyle. "Our standard of living had deteriorated," says Mitzy. "We lost our pensions and our medical, and were going to have to survive on social security."
In contrast to these stark words, Mitzy today is the picture of contentment, shelling peas on her tidy, sun washed porch as she shares her story (and her fresh brewed coffee).
Not the type to surrender to a grim fate, Mitzy thought a move might be the solution.
They were no strangers to exploring overseas; Mitzi lived in Ecuador during her time as a Peace Corps volunteer and trainer, while Bill had traveled extensively in Mexico. Both had learned Spanish and were familiar with—and much enamored of—Latin culture. And both heard good things about Panama.
"We bought some land in Capira (about an hour west of Panama City), but it was a remote piece of land without even any electricity. We realized that the lifestyle…frontier living…wasn't exactly what we wanted," says Mitzy. So the couple sold the property and set out to find a region in Panama that would better suit them. "We considered the beach areas around Coronado and even stayed for a few months," says Mitzy. But she wanted something quieter and smaller.
A Low Cost of Living in Santa Fe, Panama
They heard talk about a tiny mountain town called Santa Fe in Panama's Veraguas province. A place with a small but friendly (and growing) expat community, welcoming locals, good climate, and an extremely low cost of living. It sounded perfect…and when they went to check it out, it looked perfect, too. The couple decided almost immediately to move there.
"We've been here for seven years now," says Bill. "We chose to be here primarily because of the people," adds Mitzy. "Panamanian people are so wonderful, and will do anything and everything to help you out when they see you're trying to adapt and find your way. We respect and admire them, and we try to earn their respect and admiration, too. It's important to us…especially here in Santa Fe, where there aren't many expats. It's mostly local."
Mitzy says the expat community is exactly what she was looking for: "It's very different from other destinations with large expat communities. There aren't many of us who stay here year-round, and we're close knit. If I need anything, someone will always try to help."
Mitzy and Bill enjoy the people—their neighbors and friends—and the setting. Just a 15-minute drive from the village center, they bought a small, local-style home, added a few modern touches, and decorated it with cheerful colors and local paintings. But the best part about the property, says Mitzy, is the land where nearly anything grows. They live on the Santa Maria river, growing heirloom vegetables and tropical fruit, and surrounded by cats and dogs. It's what they call their farm lifestyle.
"We are early risers, so it suits us," says Mitzy. "There's no real nightlife here. In the Coronado area it was different—there were plenty of tourists coming through, and it could get crowded on weekends and holidays. And we couldn't grow as many things as we do here."
In Santa Fe, she says, "I can almost hear the birds breathe, it's so peaceful. We are so grateful for this location. We have waterfalls nearby, plenty of wild life—everything from birds to deer—and we're surrounded by flowers. We've divested ourselves of everything in the U.S…this is home."