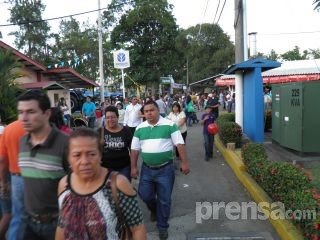 (prensa.com) The International Fair of San José de David addition Panamanians have come from different provinces of the country, foreigners from all over the world.
3:06 p.m. – David, Chiriqui .- 206 000 817 people have visited so far, the International Fair of San José de David during the first nine days of this event.
This was announced by chairman of the board, Elio Arauz, adding that the activity has met the expectations that had been in their realization.
Meanwhile, in the livestock judging were European breeds of cattle and beef.
Carlos Santiago Castillo and his family took the highest award given by the fair, to get the Grand Champion Award, with the participation of a bull Brahmann race, who beat another example of excellent quality coclesano player Carlos Lee.
In addition to livestock activities, visitors have enjoyed the artistic, musical, folk, among others.
This is the fifty-sixth edition of this fair, which in the past eight years has had an attendance of people over two million.