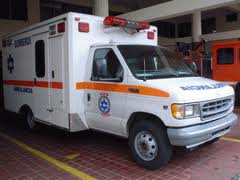 (
Prensa.com
) Emergency management 911 service has started offering coverage in the province of Chiriquí.
Six ambulances with life support capability, which cost a total of almost $500,000, were delivered Wednesday in a ceremony in David attended by Minister of Government Roxana Méndez.
There will be 33 medical technicians on staff. The bases for the operation will be located in David, Tolé, Dolega and Bugaba.
In the middle of the dedication ceremony, which took place at the David fire brigade headquarters, firefighters and paramedics had to attend to a man in need of medical attention who arrived at the facility in a taxi.
The land for the base in David was donated by the Autonomous University of Chiriquí. In Tolé, Bugaba and Dolega the bases will be located on municipal properties.
The start-up costs for the program were $1 million.