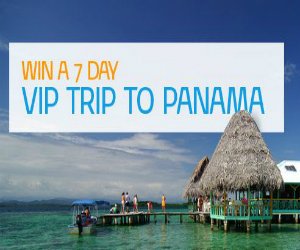 Enter with KLM Royal Dutch Airlines for the chance to win a 7 day VIP trip to Panama! You will stay at the Gamboa Rainforest Resort and all your meals, airfare, and more are included. Sweepstakes ends on September 30th.
Prize DetailsPanama is a country of varied surroundings and many options, it offers many opportunities for outdoor activities and recreation under intense blue of the tropical sky. An ample range of possibilities are offered to the visitor eager for new experiences, some relaxing and others intense. A calm afternoon of golf, or a placid stroll through the sandy beaches, contrasts with an extreme day of river rafting or the encounter with the vertiginous waves of the Pacific Ocean. To climb the volcano or to enter in the mysterious jungles are also options to enjoy the enchantment the tropic.Prize EligibilityOnly persons who are at least 18 years of age can enter.Sweepstakes
StartsJuly 10, 2012 @ 08:59 am (CEST)Sweepstakes EndsSeptember 30, 2012 @ 11:58 pm (CEST)
Need more Details?Read the Official Rules
About the Company
KLM Royal Dutch Airlines; a Dutch and world-wide operating airline company. Experience KLM in http://www.iflymagazine.com !