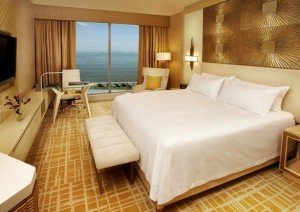 (LA Times) Travelers heading to Latin America will have a new option for a luxury stay. Waldorf Astoria Panama recently opened near the Calle Uruguay entertainment area in Panama City. Prices start at $159 a night for room only and $219 for a hotel-breakfast package.
The deal: The new-build hotel in Panama City has 248 rooms, a spa and fitness center and is within walking distance of the city's Cinta Costera trail overlooking the Pacific.
The lowest advance purchase price ($159 a night plus tax) requires full payment and is nonrefundable. The opening introductory package (use the code "OX" when making a reservation) costs $219 a night plus tax and includes continental breakfast and free Internet access.
When: Room rates are based on availability; the hotel-breakfast package is good for stays through May 19.
Tested: As far as the Waldorf brand goes, a stay at the Waldorf Astoria in New York and the Reach in Key West, Fla., would cost more than $300 a night. So it's nice to find some of the Waldorf luxury at a more affordable price.
I found a room available May 10-12 for $159 plus tax for an advance purchase and $219 plus tax for the breakfast and free Internet option.
Info: Waldorf Astoria Panama, (800) 925-3673