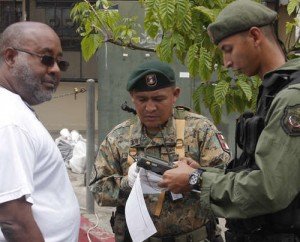 (
Prensa.com
) The use of the "Pele Police" computer system continues to be a vital tool for officers to catch people with outstanding arrest warrants or unpaid traffic violations.
The National Police reported Wednesday that they have checked nearly 1.8 million people so far this year with the hand-held computers, mostly at checkpoints.
In that same period of time, they have arrested 1,637 for outstanding warrants and cited 6,234 people for having unpaid traffic tickets. There were another 977 people found to have outstanding minor administrative matters pending.
Police officials said that the department will continue checking licenses at checkpoints, and that the use of the ¨Pele Police has been effective in cracking down on people who have failed to pay tickets or show up for court appearances.