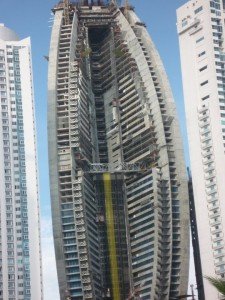 (The Panama Gringo) The long awaited opening of the Trump Ocean Club in Punta Paitilla is quickly approaching. The seventy-two floor building will hold around 370 guest rooms with forty-seven suites. The remainder of the building will hold condos that will set you back $300 thousand to over $1 million; as well as 3 restaurants, 3 bars, 2 pools, and a private beach resort. This massive $400 million project is truly and architectural masterpiece that has been incredibly interesting to watch form over recent years.
The hotel and casino was set to open doors in November of 2010; however, holdups from delays in shipped materials, weather and underestimated detail work have set the open date back until this coming July. In recent press Mr. Thierry Baurez, the sales and marketing director of the project, has said that the club will open on July 1, 2011.
I searched the Trump Ocean Club and Casino site for details on booking, but came up short. Rumor has it that the estimated per night rate will be around $300 which seems about right considering the popularity, luxury and location of the place. The idea of my home having five star restaurants, a hotel, fitness centers, spa and private beach all inside the city is definitely an intriguing one.
If you have the opportunity to visit the neighborhood while you're in Panama City you should definitely stop and check it out. I promise that the size and architectural astonishment of this place will leave you nothing less than amazed.
For more budget friendly hotel ideas you may want to check out the Veneto, or see if Giggi Travel is running any specials.