(Eye on Panama) Donald Trump has done it again.  He's managed to piss off his naysayers and, in the course of four years, construct what will no doubt be an icon and must-see in Panama.  The  Trump Ocean Club is less than five months from completion, and all signs point to one of the most well equipped, well designed buildings in Latin America.  And it will blow the competition away.
Throughout my real estate career, I've probably been in over 500 condos in Panama.  With the exception of a handful of properties, there is always something missing.  Maybe the floorplan will be fabulous, but the balcony is just too little.  Or maybe the layout of the condo is spot-on, but the social area has no gym and the pool is tiny.  Yes, there are those rare exceptions where all the real estate starts seem to line up, but in most cases, it's like smelling a simmering spaghetti sauce for four hours and anticipating that perfect first bite only to realize that there is just SOMETHING missing.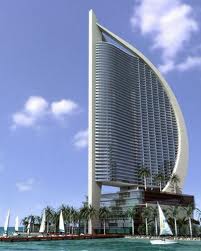 No detail has been left unaddressed in Trump Ocean Club.  The amenity list reads like an all inclusive resort, the floorplans are elegant and spacious, and the building design leaves absolutely nothing to be desired.  What other building in Panama has more than three swimming pools?  Trump will have five.  What other residency can claim eight gourmet restaurants all with room service access?  Not a single building in Panama.
The Trump name is enough to get passerbys to stop in and have a look.  As the valet scoops away their cars and they slowly make their way, mouths agape, into the double height lobby, they'll be hooked.  Curb appeal has new definition in Panama.
For more information on the project, check out our website:  PanamaEquity.com