(Jetline Cruise) SeaDream Yacht Club has announced that during 2013 it will, for the first time ever, offer a cruise traversing the Panama Canal with its luxury cruise yacht SeaDream I. After that the ship will spend a couple of weeks cruising along the Costa Rican "rich coast."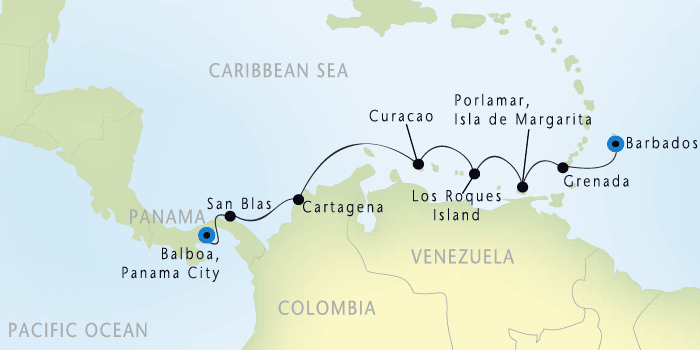 You might well ask what is so different about the SeaDream Cruise? Many cruise lines traverse the Panama Canal after all. The fact is that SeaDream offers you a much more intimate, personal experience than the bigger cruise ships plus the ability to explore smaller, lesser visited ports where mega cruise liners simply cannot go.
The cruise embarks on the 9th November next year and its first port of call will be Bridgetown, Barbados. The ten-day journey also docks at the Los Roques Islands and Isla de Margarita (Venezuela) and Cartagena in Colombia, Curacao and San Blas in Panama. All these visits, including the traversal of the Panama Canal, are firsts for SeaDream.
After Panama SeaDream will sail to Caldera in Costa Rica, from where she will embark on six consecutive cruises. If you are lucky enough to be on the last of these journeys, you will be able to spend New Year's Eve in Panama City.
These cruises are not just about eating and entertainment either: there will be a top class naturalist on board the ship, able to provide in-depth information about the natural wonders encountered on the journey. These include numerous active volcanoes, lovely beaches, plus an abundance of wildlife that includes no less than 1,200 types of orchids and a thousand species of butterflies.
| Date | Ports of Call | Arrive | Depart |
| --- | --- | --- | --- |
| 09-NOV-2013, Saturday | Bridgetown, Barbados. | 00:00 | 18:00 |
| 10-NOV-2013, Sunday | St. George's, Grenada | Morning | Afternoon |
| 11-NOV-2013, Monday | Porlamar, Isla de Margarita | Morning | Evening |
| 12-NOV-2013, Tuesday | Los Roques Island | Morning | Evening |
| 13-NOV-2013, Wednesday | Wilemstad | Morning | Evening |
| 14-NOV-2013, Thursday | At sea | Early Morning | Overnight |
| 15-NOV-2013, Friday | Cartagena, Colombia | Morning | Evening |
| 16-NOV-2013, Saturday | San Blas Islands, Panama | Mid-day | Evening |
| 17-NOV-2013, Sunday | Panama Canal Transit | Morning | Early Evening |
| 17-NOV-2013, Sunday | Balboa, Panama | Evening | Overnight |
| 18-NOV-2013, Monday | Balboa, Panama | Morning | 10:00 |