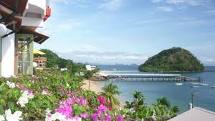 (International Living) From Panama City, no island is easier to get to than tiny (and often overlooked) Taboga. The best island in Panama for true local flavor, it's just 12 miles off Panama's Pacific coast.
Locals call Taboga "the Island of Flowers." You'll see why as you walk the 500-year-old Spanish Cross trail across "the hump," a low hill rising from the center of the island. Flowers blossom everywhere and the smell of jasmine pervades. You'll have breathtaking views of the clear waters, where divers still find centuries-old gold coins. It's no wonder French artist Paul Gauguin went to Taboga in 1887 in search of a small plot of land to call his own.
From Panama City, Taboga is just $10 round-trip and less than an hour each way by ferry.
Just an hour west of Panama City, on the Pacific Coast, is a string of pretty beaches near towns like Farallón, San Carlos and Santa Clara. What most day-trippers in these parts miss, though, is the Campana National Park.
The cloud forest that is Campana drapes volcanic mountains in shades of green. With altitudes ranging from 1,300 to just over 3,000 feet, Campana is cool and quiet. Here you can see some of the best of Panama's flora and fauna, including the nation's emblematic golden frog.
Most Panamanians make day trips here. They bring small picnics to the lookout point near the park's administration office to enjoy panoramic views of the valleys and mountains all the way to the Pacific Coast.
This is a good place to hike or take a horseback ride. But to make the most of Campana, stay at least one night. Posada Loma Grande is a little gem you're unlikely to discover unless you drive past it on the way up the Campana Park road. A remodeled country home, the inn boasts some of the country's most dramatic views from staggered mountain terraces.
When I was last there, I made this video about one of Panama's best-kept secrets.