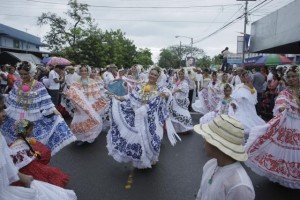 (Prensa.com) Las Tablas, Los Santos .- Around 10 000 empolleradas arrived in the city of Las Tablas this Sunday, November 27th to participate in the second version of The Thousand Pollera, reported Carlos Tito Afu, deputy circuit 7-1 (The -Tables-Guraré Pedasi-Pocrí).
More than 200 delegations from different parts of the country came to participate in the folkloric activity, which led to the big leagues flag Randal Delgado.
For the administrator of the Tourism Authority of Panama (ATP), Solomon Shamah, this is a record in this celebration, because during the parade hundreds of skirts were observed along the main streets of Las Tablas.
The ATP administrator reported that this year the organization spent $ 150,000 for the event and The National Lottery awarded another $ 50,000.
Shamah said the parade of the Arabian Skirts continue to be held in the city of Las Tablas next year.
In this regard, Deputy Afu said it will work for the third version of the Arabian Skirt has a law, which is regulated by the parade that pays homage to the national costume.