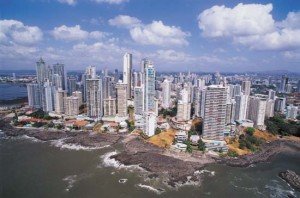 (
Expat Daily News
) I recently posted an article about the cost of living in major cities of Latin America in which I compared information from two cost of living comparison websites,
Expatistan
and
Numbeo
. For the most part, the two websites agreed with each other about costs of living. However, there were major disagreements about Panama City, Panama, and San Jose, Costa Rica, which are two very important cities at this time when more and more people are looking to relocate to Latin America and finding Costa Rica and Panama to be very expat-friendly options.
In the article, I speculated about why Expatistan rates Panama City as being more expensive even than Rio de Janeiro, while Numbeo has it at the lower end of the spectrum for Latin American cities – quite a disparity – and I wondered if the site that has more current information might list the cost of living as much higher because of "recent skyrocketing property values."
I wanted to highlight the two cost of living websites as a tool for people to use, but I was also sure to point out that more research is necessary, and the conflicting information about Panama City is a good example of how important this really is.
Someone subsequently sent in a comment with their take on the cost of living in Panama City as well as in other parts of the country:
I live in Panama City and I wouldn't say that prices for real estate are anywhere near the inflated prices from a few years ago. You can definitely find some decent places for 50-100k in the city and rents have come way down as well. In other parts of the country, such as David, Chorrera, Pedasi and Boquete you can easily find places in the 30k range and rents as low as $200-300. One can get by on $1500 a month in Panama City (rent included) and a lot less in other parts as prices for fruits, vegetables and meat are generally purchased right from the source. The other thing you should keep in mind is that Panama City is developing more each year and the infrastructure continues to improve which is more than I can say for any country in Central America and parts of South America.
So there is that. The question is: Is this information any more accurate than any other information I might come up with on the internet? When it comes to Panama, well, here is what Don Winner of Panama-Guide.com had to say in February in his introduction to an exposé of the Panama real estate scene called
Blood on the Streets
:
Over the course of the past 6 years, one thing has not changed and that is the difficulty of obtaining good information about the market. This is generally true about all new markets, but the Panama real estate scene in particular has never been transparent.
So, I took another look at the numbers on the two cost of living comparison sites, and after going to Expatify and comparing New York City to Panama City, then switching to compare Panama City to New York City, I discovered that the numbers were not consistent, therefore accuracy of that site has come into question in my mind (more on this tomorrow).
I did some more digging around, and discovered the kind of forum that I really like because it is specific to a certain location, the participants are active in discussions and in answering questions, and it is truly a community affair. Whether you are interested in this location or not, the forum has a lot of great advice that applies to the whole country. It's called
Boquete Panama: Cool, Green, and the best Coffee in the world
, and a search for "cost of living" will bring up some great discussions. And while you are there, you might want to search for a blog post titled,
Panama Facts You Won't See Advertised
to get a little dose of reality.
I like to check out forums, blogs, and comment sections of articles to get a more varied viewpoint that represents regular, non-invested people who are sharing their experiences and knowledge about expat life without it being a sales pitch. This forum is excellent, and another excellent site that is chock full of news and information is
Panama-Guide.com
. The list of topics covers everything from
Animals and Pets
to
Corruption
to
Infrastructure Upgrades
to
Weather,
and if you click on
Real Estate,
you will be met by pages full of various articles about real estate in different parts of the country that will give you an idea of what the trends are, especially in regard to Panama City (often referred to just as "Panama"), where the upscale market is apparently experiencing a shortage due to high demand.
Finally, another discussion touching on the cost of living in Panama that I found useful was in the comments for an
article
pitching Panama as a retirement haven – again, a bit of reality to remind future retirees that developing nations are… developing.
Julie R Butler is a traveler,  blogger, freelance writer, and editor who has authored several books, self-published as eBooks, including

Nine Months In Uruguay

and

No Stranger To Strange Lands

(click here for more info). Please contact Julie for writing or editing assignments at:
julierbutler [at] yahoo.com