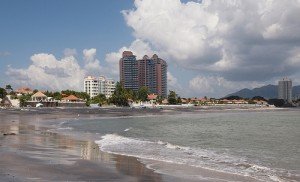 (International Living) If you plan to move to Panama for clear blue waters and long stretches of sandy beach, you'll be happy to know that there are plenty of places to choose from. After all, most of Panama consists of coastal areas. Below is my top pick for the cheapest beach destination in Panama.
Just an hour by car from Panama City, Coronado is the most developed beach town in Panama. It has long been popular with the local elite, thanks to its location in the region known as the Arco Seco, or "dry arch." This region tends to get less rain and offer more sunny days than any other beach destination in Panama, making it the ideal place to have a weekend or full-time home.
Within a 15- to 30-minute drive from Coronado town center, there are smaller beach towns where you can find excellent bargains. One Panama beach area that is particularly worth visiting is Gorgona, a short drive from all the amenities Coronado has to offer.
How The Cheapest Beach Destination in Panama Cut A Family's Costs by 50%
"We fell in love with the view," says Susan Roussel of her ocean view condo on Gorgona beach. Susan and her husband, Denis, moved to Gorgona beach with their two sons, Jonah, 11 and Elijah, who is just 18 months. (Wondering about schools in Panama? Right in Gorgona beach, Panama Coast International School provides a place for Jonah to learn and interact with other children his age.)
Susan and Denis are spending $250 a month on tuition and $1,200 a month to rent their condo on the beach. They can literally step into the sand from their building's pool area…still, they say their costs have never been lower.
"We have been here almost four months now," says Susan, "and we plan to stay for 10." After that, she says, the family will go home to Alberta and think about whether to move permanently. With the low costs and laid-back beach lifestyle, Susan is tempted to live here full-time.
For Denis, life in the cheapest beach destination in Panama is convenient. He says the Internet is a little slower than back home but "amazingly reliable," adding that it compares favorably to what he had in Canada. "We pay $67 a month for Internet and cable. Our electricity costs are averaging $80 a month. We find that we don't have to use the air conditioning very much, thanks to the sea breeze." That was a relief for the Roussels, who had expected their energy costs to be nearly triple what they are.
Fun Comes Cheap in this Panama Beach Destination
Says Susan, they spend a lot of time at the ocean, a fun place to frolic (and it doesn't cost her a dime). She finds that dining in Panama is inexpensive compared to her home in Alberta. "Even a steak dinner is at least half the price," she explains. "The most we've paid for a meal here was about $15 for a huge steak with salad and three jumbo prawns on top…and it was good steak. That dish would be at least $30 back home."
"Then there's the fish market," says Susan, "which is crazy cheap. We buy straight from the boats at the fisherman's coop. We have bought 10 pounds of fresh-caught snapper for $7, enough prawns for eight servings for $8…and I'm looking forward to the 'tuna season,' which apparently starts this month," she adds.
Are there Cheaper Beach Destinations in Panama?
You may question my decision to call Gorgona "the cheapest beach destination in Panama." It is true that you could probably live on even less than the Roussels in, say, the Azuero region of Panama. It's probably the cheapest region in Panama.
But Gorgona's proximity to Panama City and Coronado (and their excellent hospitals and businesses) just can't be beat. The Roussels say their cost of living has gone down by about 50%. Based on their estimates and rent prices, it's possible to live very well in Gorgona on as little as $1,300 a month, including rent. All things considered, Gorgona wins my vote for the best and most convenient beach destination in Panama.