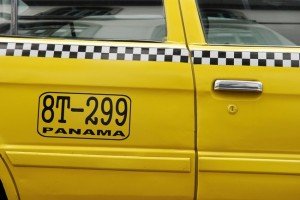 (Newsroom Panama) Your taxi ride will cost you more today. Fares for  most of Panama's 40,000 taxis, the majority  in the capital area, have been adjusted… upward.
In the province of Panama the minimum fee of a  dollar, has been increased to $1.20 The additional passenger rate moves up from 40 to 50 cents.
The results of public consultations in May and June have been approved by the Transit Authority (ATTT) and published in Official Gazette.
The lowest rate in  the country is 50 cents for zone-Junquito Changuinola in Bocas del Toro. In the urban area of ??Chiriqui Grande the rate will be 60 cents.
The increases rate range from 5 cents up to 20 cents.
In Los Santos and Chiriqui, the rate  is unchanged.
In Veraguas, the minimum charge was $1 and is  now $1.15 while in Herrera, Chitre the rate fell 5 cents , but the cost of an additional  passenger went up from 25 to 35 cents.
Rafael Reyes, leader of the taxis in the metropolitan area, expressed agreement with the changes, as it was necessary after steady increases of fuel.
According to Reyes, now the union will fight for the government to help them with credit and finance for taxi purchases
In Panama there are about 40 000 taxis, of which about 3 000 operate in the provinces.