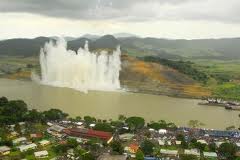 (LAHT.com) Spain's development minister on Tuesday visited the area where work is continuing to expand the Panama Canal, a project in which three Spanish firms are participating.
After flying over the length of the entire Canal in a helicopter, Jose Blanco was briefed on the progress being made in the expansion work along with the presidents of Sacyr Vallehermoso, Luis del Rivero, and FCC, Baldomero Falcones, two Spanish companies that are participating in different aspects of the expansion.
"In 10 or 15 days maximum we will be pouring concrete," Bernardo Gonzalez, the head of Atlantic projects for the Grupo Unidos por el Canal consortium, which is comprised mainly of Sacyr and Italy's Impregilo, told the minister.
In this new phase, he added, between 100,000 and 110,000 cubic meters (3.4 million to 3.8 million cubic feet) of concrete will have to be poured to build the new locks just in the Atlantic complex, and a similar quantity will be needed for the work on the Pacific side, where the project is not so far along.
"We're facing a spectacular project that shows what we Spaniards are able to do," Blanco told Efe.
In all, according to Sacyr technicians, the work is about 10 percent completed and things are on schedule to finish the project in 2014.
FCC, which won one of the dry channel excavation contracts on the Pacific side, also prevailed in the bidding for a $1.5 billion contract to build a metro line in Panama City.
Falcones said that FCC is participating in other bids in Panama, including a new bridge over the Canal and several highways.
"Panama is making an investment effort in infrastructure and I think that here there are two well-positioned Spanish firms that are showing ability, seriousness and who in that sense are fitting in very well with the policy of the Panamanian government," he added.
Blanco on Tuesday concluded his visit to Panama, which included a meeting with President Ricardo Martinelli and a forum among Spanish firms and Panamanian officials to push Spanish investments in the Central American country.