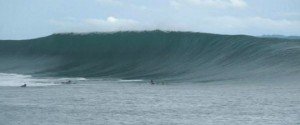 (Surfline) Surfing continued today at the Billabong ISA World Surfing Games, with excellent one-to-two metre conditions on offer at the main event site of Playa Venao in host country, Panama.
Twenty-seven nations are represented in the annual week-long tournament, with close to 200 competitors vying for gold, silver, bronze and copper medals, along with the prestigious overall team title.
Brazil, Australia, New Zealand and South Africa were the only four countries to secure 100% progression at the end of competition on Day 1, with defending champions, Peru, and power-house surf nations like the USA and France seeing at least one surfer relegated to the do-or-die heats in the repecharge rounds.
At the completion of Day 2, Ireland, represented by just one surfer, Mike Young who competed in the Open Longboard division, is the only country to have been eliminated completely.
The competition continues tomorrow from 08:00am local time with the forecast showing plenty of swell through to the end of the event, which culminates this weekend (Saturday, July 2nd).
All the action from every heat can be viewed live via the official website at www.billabongpro.com/isa11
The ISA (International Surfing Association) is recognized by the International Olympic Committee as the world governing authority of surfing.
For additional information including the Billabong ISA World Surfing Games schedule, heat draws, results and competitor info, please log on to www.billabongpro.com/isa11