(The Panama Gringo) Albrook Mall near Albrook Airport in Panama City is a popular shopping spot with tourists and locals alike. It's located next to a bus terminal and has a nice supermarket inside making it popular with bus riders that need to take food home. There are dozens of stores and restaurants as well as a cinema to entertain any shopper or innocent tag-a-long for hours. I recommend trying any of the authentic roasted chicken available for a guaranteed worthy mall meal. They have a store for every interest or need.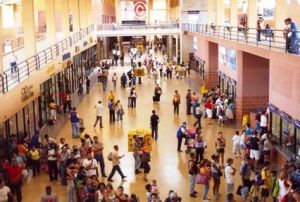 From Panamanian souvenirs to designer swimwear to purses and backpacks in every color and size, they have a store for anyone to kill some time. You could take the little ones to ride the carousel while yu sample a homemade cinnamon roll or explore the collection of jewelers making intricate pieces. They have a very animated website that you can check out, or call at 507-303-6251.
Interested in doing some shopping outside the mall? Check out this post.
To help in getting around Panama, check out this map.