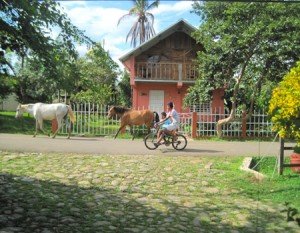 (International Living) I'm sipping rich coffee—just poured from a French press—when it happens. A white horse ambles by, no rider or groom in sight. Behind him, there appears another…his chestnut brother. Single file they clippety-clop into focus.
Behind the horses is a sweet-peach A-frame with a tiny wooden balcony. Two village boys in stylish Bermuda shorts come into view on a small bike that's been painted a retro sierra blue…like the '68 Mustang.
Pines and flowering shrubs surround pretty little Hostal Tierra Libre, where I'm staying. As the cook brings out Dutch crepes and local honey, I can hear life buzzing all around me—the kind of lazy hum that makes me want to spend the morning swinging in the hammock off to my left.
But "lazy" isn't quite the right word to describe the village of Santa Fe de Veraguas, located in Panama's Veraguas province. Other words come to mind: "bohemian," "quirky," and "effortless."
A town of about 3,000 people, Santa Fe has no traffic. Even on the main road cars pass infrequently. And everyone—every single person—says hello or buenas as they pass.
The roads are beautifully paved and the homes neatly painted. Despite the good infrastructure, Santa Fe has an undeveloped feel—as though it's been hidden from the modern world all these years.
One general store seems to hold it all…from t-shirts to steel beams to staples like sugar and rice.
There is just a handful of shops—several new. One local makes tiny guitars known as mejoranas, hand crafting them using centuries-old techniques. A woman has started making and selling her own fresh mozzarella, a welcome addition to the vibrant organic produce.
At 1,300 to 1,400 feet, the climate is wonderful, with temperatures rarely climbing above 88 F at midday.
Evenings linger in the 70s F. The rainy season stretches officially from May through November, but afternoon rains are often fleeting. Most mornings are sunny, the baby-blue skies dotted with lambswool clouds.
The Santa Fe National Park is one of the best places in Panama to hike or bird watch and the nearby Forest Reserve La Yeguada is arguably the best place in the country to camp.
An hour-and-15-minutes away, the provincial capital of Santiago is growing slowly but surely. There are hospitals and clinics, shopping plazas and department stores, movie theaters, restaurants, and even a few hip-looking discos.
Locals and expats who live in Santa Fe travel to Santiago once or twice a week. On a visit to "the city" you may visit a home improvement store, see a heart specialist, go to one of the banks on Avenida Central, or grab lunch at the popular Hotel Galeria restaurant. Nearly everything you could possibly need is available, often at less than half the price you'd pay back home.
But the beauty is the drive back to Santa Fe. As you coast over rolling hills, the views begin to open up before you. The best time of day is between 5.00 p.m. And 6.00 p.m. That's when the sun sets over the staggered blue-green hilltops, ringing them in tones of papaya and passion fruit.
The few local and international tourists who make it to Santa Fe also enjoy horseback riding, inner tubing, and visits to the many freshwater swimming holes.
A serene small town it may be, but Santa Fe isn't lacking in modern conveniences. Everyone I met had Internet for which they pay $20 to $30 a month. There's reliable power and water, satellite and television.
Originally from Texas, Edwin Ray Walston, arguably the most successful restaurateur here, says the cost of living is extremely low overall. "A couple could live here on $800 a month, easy," he says. "Rent included."
Land is easier to find here than resale homes, which sell almost as soon as they are listed. A three-bedroom, two-bath home located in the center of town sold recently for $100,000. On a 7,000-square-foot lot, it came furnished and featured a rancho (a thatch-roofed space that can be used for barbecues and outdoor dining).