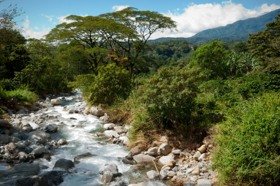 (International Living) In Boquete, Panama, you want a really good camera. That's because the mountain views are lavish and rainbows appear nearly every day. Karl and Liz Parker fell for this landscape when they first arrived. Now they live in Panama part of the year, spending the rest of their time traveling or back in the U.S. with family.
As pensionados, or "pensioners," Karl and Liz are entitled to discounts in Panama on everything from entertainment to airfare. They're entitled to 25% off their monthly power bill, 50% off weekday hotel stays, 15% off dental and eye exams, and more.
And the best part of Panama's pensionado program is that it grants "pensioners" or retirees like Karl and Liz residency in Panama…for as long as they like.
But while the discounts are great, they're not the reason Karl and Liz moved here. A lot of their favorite activities cost little to nothing. Liz enjoys hiking and walking tours. She even manages to make a little money.
A former beauty-shop owner, she has been doing professional hair coloring for years. When word got out in the expat community, people began to seek her out.
"People get upset when they hear she's leaving for the States," jokes Karl.
Karl starts his day here with a few hours on his computer, after which he makes his way along a winding mountain road to a cozy place called Sugar & Spice where, he enjoys a breakfast of freshly made empanadas and a cup of some of best coffee in the world.
Karl and Liz bought their home in Boquete four years ago. It's in a quiet, mostly Panamanian sector called Alto Boquete. The gable roof, vanilla ice-cream tone, and decorative stonework fit right in, among by pines.
Homes like theirs will set you back as little as $100,000. Smaller homes can cost $20,000 less. Some U.S.-style homes in Boquete go for $200,000 to $300,000, but Karl says, "you really don't have to spend that much for a house in Boquete. There are many homes on the market right now."
Karl's house is never quite "finished." After his morning café, he often spends rainy afternoons working on it. He has installed new hot water heaters, water storage tanks, and painted it inside and out. It's a work in progress.
Evenings, he and his wife Liz enjoy an array of local events…there are plays, courtesy of an active English-language theater group…charity events…music concerts.
"Some of the presentations have been just excellent…better than back home," Karl says.
When I ask whether, one day, they'll choose to stay in one place full-time, Karl hesitates. He has pet peeves…like anyone…but most everything here, to Karl, is a plus.
"My wife really likes Panama," he says. "And it suits me. Panama has lots going for it. And the government stays off your back."