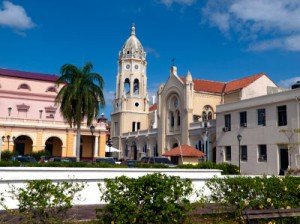 (USnews.com) Located at the end of Panama City's bayfront Cinta Costera, out on a small peninsula all its own, is Casco Antigua. Commonly known as Casco Viejo and a UNESCO World Heritage Site, this is Panama's second most popular tourist destination (after the Panama Canal).
Casco Viejo has survived more than 300 years. It was built about 1670, after Henry Morgan sacked and burned the original city of Panama. This was the city center when Lessep brought his French engineers to start the ill-fated French effort to build the Panama Canal. The history of this old city includes several fires and reconstructions, followed by slow decay over decades that left this neighborhood with such an interesting past in near ruin.
Today Casco Viejo is well into a phase of rebirth, and many of its French, Spanish and American colonial structures have been or are in the process of being renovated. Into them, once restored, are moving mostly foreigners, including many foreign retirees who appreciate the way of life this historic, romantic quarter has to offer.
This region of Panama City is quite separate from the rest of Panama's capital, which is developing at breakneck speed into a global business, banking and investment hub. Over in modern-day Panama City, with its high-rise towers and high-end shopping malls, just a few minutes' drive away, life is chaotic, hectic and noisy. Out on this small peninsula in the Bay of Panama, though, you can forget Panama City's ambitious, first world agenda and retreat to a life of culture and like-minded, English-speaking company more interested in enjoying life than doing business.
Organized by the Spanish-colonial city planners around a series of plazas, this is the one area of Panama City built for walking. Casco Viejo appeals to the romantic and, with its theaters, art galleries, museums, cafes and hip and trendy bars, is also the most culturally active neighborhood in the Panamanian capital.
At Plaza Bolivar, at the heart of Casco Viejo, musicians play for al-fresco diners, some going table to table with their guitars taking requests. On one corner of this lively square is the Teatro Nacional, home to Panama's annual International Film Festival and regular opera performances.
In Casco Viejo, entertainment is everywhere. If you're looking for more physical recreation, you could take a jog along the brick-paved streets or run along the seawall that surrounds this part of the city. Early morning is best for this kind of activity, because, as everywhere in Panama City, the climate is hot and sticky year-round. At least in Casco Viejo, though, you have a good chance of catching an ocean breeze. Water surrounds you here on three sides, and nearly every street leads to it.
Casco Viejo is developing to suit the tastes of the expats and retirees settling here. There's a local gym and a yoga studio, and you could learn Spanish without leaving the neighborhood. The Casco Antigua Spanish School offers a "Survival Spanish" course.
Many of the 200- and 300-year-old colonial structures are being renovated into condos, some near luxury-level, with high ceilings, exposed brick and stone walls, handmade tile floors and stone counters in the kitchens and baths. Most of these buildings have balconies from their upper levels with ornate iron railings. On these, in pots, grow palm trees and bougainvillea of red and orange, creating the effect of New Orleans transplanted to the tropics.
Panama City is no longer a super-affordable retirement choice, and Casco Viejo is one of the more expensive neighborhoods in Panama's capital city. This is not a budget retirement choice, but a richly romantic one that is also on the doorstep of the region's most developed and cosmopolitan city. You have all the amenities and services of downtown Panama City within quick reach, but your own corner of history to come home to.
Kathleen Peddicord is the founder of the Live and Invest Overseas publishing group. With more than 28 years experience covering this beat, Kathleen reports daily on current opportunities for living, retiring and investing overseas in her free e-letter. Her newest book, How To Buy Real Estate Overseas, published by Wiley & Sons, is the culmination of decades of personal experience living and investing around the world.