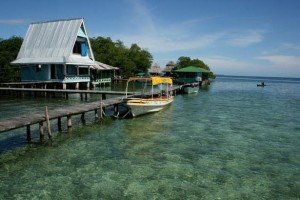 (International Living) "We have more friends than ever—our kids can't believe how social we've become," says one expat couple. "I'm busier than ever before," says another expat in Panama. It's a constant refrain from those who thought their retirement years might be marked by the restraints of a fixed income and a waning social calendar. Only to find that in Panama, the retiree lifestyle is a lot of fun…
Take, for example, Paul Kimmel and his wife Ramona. Paul is a PhD in social psychology, an actor, a writer and a public speaker. Ramona is an actress and acting teacher with considerable experience in Hollywood. They're smart and social…enjoy bridge and golf…and not by any means stodgy.
They moved to Panama City a few years ago, choosing it over Ecuador because the cosmopolitan lifestyle appealed to them…as did the many English speakers, the fun activities, and the excellent infrastructure. Even better, Panama has a residency program geared toward retirees: the Pensionado or pensioner program.
"The program was one of the major draws for us," says Paul. "Costa Rica used to have a similar program, but it was discontinued. We asked a Panamanian attorney: What's to keep Panama from doing the same?"
Her answer put Paul at ease. Panama's government has specifically stated that anyone obtaining residency this way will not be disenfranchised if the program is ever discontinued. Plus, the program was originally created to provide retired Panamanians with a long list of discounts on everything imaginable, from healthcare to entertainment to utilities and more. The fact that, today, the program is as much for locals as it is for qualifying expats bodes well for its continued existence.
Paul and Ramona obtained residency through the program…and that in and of itself was valuable. But they also found that locals didn't resent them or discourage them from using the Pensionado discounts they were now entitled to. This made it easy for them to settle in and even make friends.
"We use the discounts for entertainment, eating out, and medical care. We have had no trouble using them to book flights. We go to the Lake Tahoe area, where we have a time share, regularly."
They play bridge twice a week and they live in a golfing community, so you can bet the game of the Golden Bear is a big part of their lives, too. "There are a lot of good restaurants here, so we mostly try new ones," says Paul. It doesn't hurt that the Pensionado discount in Panama restaurants is 25%. "We love concerts and plays and things of that sort, too. We meet people through our activities and we're a lot more active, socially, than we were back in the States." (The Pensionado discount for entertainment is a doozy: 50%.)
It's not just about the money-saving discounts and low cost of living. Says Paul, the people are what makes the retiree lifestyle here so wonderful. There's a real respect for others, particularly those of retiree age. "People here still enjoy each other and smile. And they help others. On three occasions we've been trying to cross a busy street and locals have come to help us and stop traffic. In one case, someone actually came out of the shop where he worked, just to help us." How great is that?
Back in the U.S., says Paul, he and Ramona felt there was a lack of community. Friends were always too busy or canceling on each other. "We'd say hello to someone on the street and get a weird look," he says. "We missed taking time to talk and enjoy people's company. We have that sense of community here…to a much greater extent," he explains. "No question about it."
As for the lifestyle, overall, Paul is enjoying it. "If anything, we're too busy. I'm supposed to be retired…but I can't find enough time to actually be retired," he jokes. In the end, Paul's Panama lifestyle has turned out to be fuller and richer than he could have predicted. He's not just a retiree…he's a Pensionado. And around here, that's a good thing.