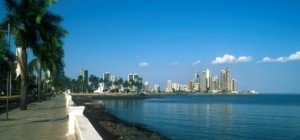 (The Panama Gringo) Executive Decree 343, which was signed May 16th, 2012 now makes it easier for citizens of certain countries to obtain Permanent Residency in Panama. Canada and the United States are both among the eligible countries. To qualify you must establish a bank account and some kind of professional or economic tie to the country. Also, be prepared to spend time in Panama while getting your Permanent Residency, as it is not something that can be done remotely.
To get the new Permanent Residency these are the documents you need to provide:
Passport (must have at least 9 months until expiration).
National ID Card (if applicable; US citizens should provide a Driver's License)
6 passport photos (recommended dress code is "business formal")
Police record from your country of residence (US citizens need to provide an FBI background check, and be sure to request an authenticated response with seal and signature).
Evidence of economic or professional activity in Panama (one of the following):

Real estate in Panama that is in your name or owned by a business that you own.
Letter of employment and work contract from a Panamanian employer.
Evidence that you own a Panamanian corporation.

Note that National Immigration Services might also require evidence of economic activity in Panama.In other words, don't expect to form a shelf corporation and get residency for it. You need to actually do business in the country to qualify.

Statement for a bank account at a Panamanian bank in your name.

You must have at least $5000 deposited in the account, plus $2000 for each dependent.

If you are married, you will also need to provide a marriage certificate.
If you have any children, you will also need to provide their birth certificates.
When you come to Panama to file your application with the National Immigration Service, plan on spending about 2 weeks to 1 month in the country, especially if you are planning on establishing your bank account while you are there. Once your paperwork is filed you will receive an interim card and a multiple-entry visa, which will allow you to enter and exit the country as you please and stay as long as you like while your application is processed.
When your application is approved you must return to Panama to get your Permanent Residency Immigration card. This trip should take about 5 days. A month after you get your card your cedula (national identification card) should be ready to be picked up.
After 5 years of having your Permanent Residency you can apply for naturalization.
It is important to keep in mind that your Permanent Residency status is not immediate. Despite the fact that you get a multiple-entry visa, you are not considered a permanent resident until your application is approved. Also, it does not double as a work permit. If you want to