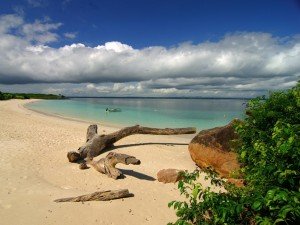 (Live and Invest Overseas) One of Panama's greatest assets is its beachfront. This is a little country with two long coasts and several clusters of outlying islands…meaning lots of different beaches, Pacific and Caribbean, touristy and undiscovered, developed and emerging, accessible and remote.  Coronado, Pedasi, and the west coast of the Azuero Peninsula are the three top beach  choices in Panama.
Convenient And Comfortable: Coronado
The strip of Pacific beach communities from Chame to Playa Blanca is referred to as the "City Beaches," because of their proximity to Panama City. These are the beaches you can most easily escape to on a regular basis, and many Panama City residents do, driving out on Friday afternoons and returning Sunday evenings (making for mega-traffic headaches on the Pan American Highway and crossing the Bridge of the Americas during those times).
The most developed, established, and fully appointed beach community along this stretch is Coronado, about two hours from Panama City. This fast-growing coastal region offers a high quality beach lifestyle with all amenities and services you could want. Coronado town has developed into a busy commercial center that makes for a turn-key retirement choice, and, indeed, this is the direction this former weekend retreat is evolving…into a full-fledged retirement community with an established population of full-time foreign residents supported by a developed infrastructure, including good medical facilities.
Coronado is an affordable place to live but not as cheap as other top beach choices in this country. The trade-off is access. The more affordable choices are also more distant from Panama City.
Affordable And Charming: Pedasi
Pedasi, for example, on the east coast of the Azuero Peninsula, is, depending who's behind the wheel, four to five hours' drive from Panama City.
Your reward for going the distance is a quaint town that is home to some of Panama's friendliest and most welcoming population and where you can control your cost of living to as little as US$1,000 a month, give or take.
The cost of living in Pedasi is remarkably low for two reasons. First, rents are cheap. You can rent a small house near the beach for as little as US$300 per month. Second, there's not much here. Resident in Pedasi, you won't spend much money, because there's not much to buy.
Until even a couple of years ago, this was very much a Panamanian town. It has been discovered, though, recently, by retirees in search of a simple and affordable life at the beach, and an eclectic expat community is emerging. This means more expat-friendly restaurants, bars, and shops, more English spoken, and more fellow expats (both retirees and, also, a younger, entrepreneurial crowd) to enjoy life at the beach with you.
Super Affordable And Emerging: Azuero Sunset Coast
The best beach in Panama today for my money is along the western coast of the Azuero Peninsula. The Pacific coastline here is dramatic and rugged, punctuated by cliffs and coves and backed by lush and rolling hillsides offering long-stretching views of the crashing surf.
This is the beach to seek out if you want elbow room and privacy. The beach road is paved and well-maintained nearly to the bottom of the peninsula. Otherwise, infrastructure is thin…but evolving.
Over the past three-plus decades, beach-lovers from Panama City have pushed their way ever-farther westward along the Pacific coast, from the City Beaches to the east coast of Azuero. The next step in this migration is taking them to Azuero's westward-facing coast, where a small expat community has taken hold and a handful of low-key, what I call "mom-and-pop" developments are under way.
This is also the stretch of coast where Lief and I have focused our own development efforts, where, for the past three years, we've been working to create a community of like-minded folks supported by top-tier amenities and services, including a small town in the Spanish-colonial style.
Los Islotes is a family project, a place to plan for the future. More details are here if you're interested.
Kathleen Peddicord
Publisher Live and Invest Overseas
http://www.liveandinvestoverseas.com/read-2013-articles/best-beach-retirement-choices-in-panama.html