A Caribbean Address in Panama … at a Fraction of the Price
Red Frog Beach Rainforest Resort & Marina Opens on a Caribbean Island in Panama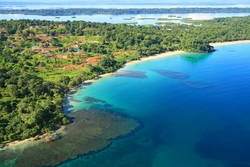 A Caribbean Island Resort In Panama
Bocas del Toro, Panama (PRWEB) September 21, 2010
Panama is not a common reference point for the allure of Caribbean islands such as Turks and Caicos, St. Thomas, St. Lucia or Antigua. But those who vacation or invest in these traditional Caribbean destinations should consider the less known islands of Bocas del Toro, Panama. Thirty miles from the boarder of Costa Rica, the beaches here are phenomenal and fringed by pristine rainforest. The island archipelago of Bocas del Toro IS part of the Caribbean and it has the added benefit of being part of that economic dynamo that is the country of Panama. Panama has been consistently rated the fastest growing economy in Latin/Central America by the Latin Business Chronicle and its stability, geographical attributes, dollarized economy and popular pensionado program for retirees are making it a top retirement destination for Americans and Europeans seeking a warmer climate and where their retirement dollars can go further.
Bastimentos Island is the crown jewel among the islands in the Bocas del Toro Archipelago and it features world class beaches, the Bastimentos National Marine park (with its protected rainforest and coral reefs) and the Red Frog Beach Rainforest Resort & Marina. This resort is special in that its proximity to natural amenities and range of adventure offerings makes it the ideal springboard for a great vacation or retirement location. Unlike other Panama Resorts on Panama's mainland, Red Frog Beach is a Caribbean Island Community made of boaters, retirees, and vacationers. The resort features real estate prices at just a fraction (up to 75% less) of similar Caribbean island properties. Such reduced prices make the value proposition even better when Panama's lower costs of living are considered.
The Red Frog Beach Rainforest Resort can currently accommodate vacationers and prospective buyers in beautiful homes with private pools that are located on a hillside above some of the best beaches in the country. There are also two restaurants, new zipline canopy tour, jungle pathways and two activity centers (beach & jungle). The onsite travel staff can coordinate tours and activities throughout the Bocas Island archipelago during a Panama Vacation – whether you like to snorkel, surf, go on nature walks, relax on the beach, zipline or take an underground island cave tour – this island destination has something for everyone. The resort is currently welcoming tourists, tour operators, real estate brokers, travel agents, yachts and sailboats to visit Isla Bastimentos.
The Red Frog Beach Resort is currently offering monthly "Exploration Tours" that includes a boat tour featuring highlights of the archipelago, included meals and zipline rides. These two night/three day packages are all-inclusive and give the visitor a taste of living in a luxury villa complete with private pool. Villas accommodate 2-6 guests so it is possible to travel with other interested parties. Bring some friends or relatives and create a family vacation out of the experience. Vacation extension options are available.
More information can be found by visiting: www.redfrogbeach.com. Or to register for an upcoming sales tour you may call: (U.S.) 281.576.8792 (Panama) 507-836-5311.