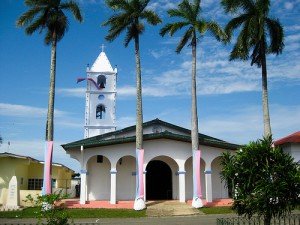 (International Living Magazine
) Here in the Azuero Peninsula, paradise overlooks the Pacific and the fishing is renowned worldwide.
The eastern region is more developed, with a mix of old cities and new developments. The west is mostly frontier land…boasting great potential for anyone with big dreams.
Toronto native Alain Mulaire has been living in the western region for four years with his Panamanian wife, Arelys. He runs a security solutions company and has a home in Azuero on a beach called Playa Monagre. Though he has access to excellent infrastructure—everything from reliable power to well-paved roads to Internet—that's not what drew him to his adopted home.
"I moved here because I really enjoyed being out on the beach. I liked the atmosphere… being out on the ocean… the breeze… and the quiet."
Quiet is right… On any given day on this and other beaches lining the Azuero coast, you're likely to be the only sun-bather for miles around.
But when there are fiestas or festivales…something Azuero has more of than any region… the locals regularly and proudly celebrate the traditions and culture of their nation. From parades celebrating the national dress to raucous carnival festivals to showy rodeos…this can be the part of Panama where you'll have the most fun.
You won't find any large expat enclaves here. Unlike more popular destinations, you're unlikely to hear English spoken when you're wandering down the supermarket aisles in Azuero.
For an adventurous few, though, Azuero is the perfect destination. It offers Panama's lowest cost of living, and it's arguably the best place in the country to learn Spanish and really live like—and among—locals.
"The price was right," says Alain of his decision to move here. "I bought a fisherman's home for very little and fixed it up." Alain prefers not to reveal just how little he paid for the home (local style homes in this area are available for $45,000 to $100,000), but says he spent about $30,000 on renovations.