(Newsroom Panama) The indigenous people of Chiriqui and Bocas del Toro, Panama do not believe the promises of President Ricardo Martinelli when it comes to mining development.
La Prensa reported Monday, February 14 that Feliciano Santos coordinator of the Movement for the Defence of Regional Planning,said there is a history of the Government  not fulfilling its promises, as happened with Bocas del Toro.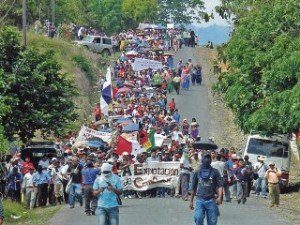 Santos said that the president may think that the indigenous remain ignorant but:"We cannot believe someone who one day says one thing and tomorrow another and doesn't keep his word, and honor agreements … just ask the natives of Bocas del Toro," he said
"He [Martinelli] wants to calm the situation, but it will not happen because tomorrow there will be the largest demonstration yet  in different parts of eastern Chiriqui. "
The authorities had to understand that the Ngäbe Buglewant respect for the land, not exploitation he said.