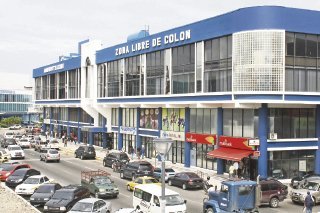 (Prensa.com) The idea of ​​then-President Henry A. Jimenez was modest: to create in the province of Colon free trade area to exploit the competitive advantages offered by the proximity of the Panama Canal.
But today, after 63 years of that initiative, the Colon Free Zone has become the largest trading area in the western hemisphere.
His numbers speak for her: in the first quarter of this year, the accumulated trade movement was 6 000 135.7 million dollars, while in the same period in 2010 was 4 000 533.8 million dollars.
Just last May, the business of import and export closed with more than 2000 $ 500 million, despite the crisis being experienced by Japan, one of its largest customers.
Projection
This 63 th anniversary of the Free Zone comes amid high expectations of economic growth despite the recession in which many user countries and which does not escape l Panama.
According to his manager, Leopoldo Benedetti, the commercial area is undergoing one of its best moments in terms of growth, so much so that today, Friday, will commemorate this anniversary with the delivery of social and commercial work for an amount that exceeds 18 million.
"Among the works that will be delivered in the presence of President Ricardo Martinelli, we have a new fire headquarters located in the area of ​​Coco Solo, which is equipped with two ambulances and a modern car bomb."
"In addition, we will inaugurate two new entries from the hallway into the commercial area of ​​the Free Zone, which projected vehicular traffic congestion that occurs at the entrance to the Atlantic city," he said Benedetti.
He added that likewise are expanding the pipeline of drinking water comes from the drinking water of Mount Hope, which is expected to end the shortages that occur in the districts of Christopher and Cativá.
Outreach to the community, said Benedetti, also includes the delivery of the new building passes, and you're laying the foundation stone to install modern facilities of Customs.
Inequality
With regard to wages offered in this area, Antonio Brown, who has over 20 years of working for one of the oldest companies in this zone, some employees believed that their seniority wages have improved, but generally remain quite low, especially compared to the profits each year the companies announced.
"When you say you work in the Free Zone, people think you're on another level, however, wages are very low for some, especially for colonense," said Brown.