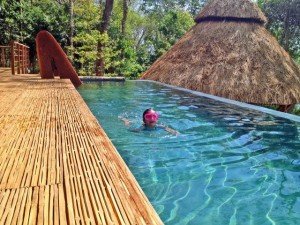 (etrubonews) Since the opening of the first six rooms of its luxury hotel in February, the new private island resort on Isla Palenque, in Panama, has received glowing reviews and sold out its exclusive Founders Club for vacation homeowners in just 10 weeks.
The master-planned resort community provides guests and future residents a unique private island experience through sustainable design, luxury amenities and adventure tours that engage with the local people and ecosystems.
Resort rooms and residences are immersed in old-growth jungle with expansive views of the Gulf of Chiriqui. Luxury amenities include fine dining, attentive personalized service with a 3:1 employee-guest ratio, and over twenty engaging tours and activities that celebrate the resort's pristine wilderness setting; plans for a spa, a beach restaurant and lounge, yacht club and marina, canopy rope walk, and nature center will round out the development's amenities in future phases.
The first inception of the groundbreaking development, a six-room inn, has earned glowing reviews and converted many of its first guests into pre-construction residence owners through the exclusive Founders Club offering. These first 12 buyers received exclusive discounts and privileges with their luxury real estate purchase, including free hotel stays for themselves and guests before their home is built, paid association fees, a dedicated concierge and other VIP treatment.
"We hosted a few 'site expeditions' in 2011 and 2012 to allow potential homebuyers a look at the property, but serious buyers have really started to come forward now that they can stay at our resort and see the quality of our design and operations firsthand," says Benjamin Loomis, founder of the eco-development at Isla Palenque.
Many vacation homebuyers find additional incentives to invest in Panama real estate given the country's ongoing economic expansion and massive infrastructural investments. The Wall Street Journal projects for 2013 to be the third year running that Panama's economy experiences double-digit growth. Infrastructurally, the recently-completed expansion of Enrique Malek Airport in David, is of particular interest to travelers and homeowners at Isla Palenque, as the airport is now positioned to become Panama's second airport to accept international flights; the airport already receives regularly scheduled flights from Costa Rica, and many expect flights from the United States to start in 2014 or 2015.
While the privileges of membership in Isla Palenque's Founders Club are no longer available as of April 30, some of the initial phase homes can be purchased through the resort's newly opened Leading Homeowner program, which offers select benefits to reward early purchasers in the project. Construction on the initial phase residences is scheduled to begin early 2014.
About The Resort at Isla Palenque
The Resort at Isla Palenque is a sustainable resort and residence development located on a private island in the Gulf of Chiriqui, Panama. The resort's boutique hotel welcomed its first guests February 2013 to experience a luxurious escape amid the wild jungles and pristine beaches of Isla Palenque.