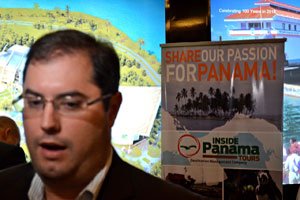 (etravelblackboardasia.com) This year was a big year for travel to Panama: the nation had forecast the arrival of some 2.2 million international visitors by year's end (an increase of ten percent over 2011), while the 126 business events due to take place in the country this year have nearly doubled last year's 66 gatherings.
But despite the surge, tourism authorities in the country are confident the best is yet to come. And key to maintaining growth, says Panama's Vice Minister of Tourism Ernesto Orillac, is the "transformation" the country is currently experiencing in its public works.
"We have several major projects undertaken right now: the canal, the subway system, the public transportation, the clean-up of the bay and many other projects," Mr Orillac told press at MITM Americas, the MICE trade show which had put Panama "on the map" of the meetings industry.
To help build on visitor numbers from North America and Europe, Panama is also constructing "five new international airports", has spent around $US194 million on the impressive new Panama Conference Center, and will open the Frank Gehry-designed Museum of Biodiversity in 2013.
Talking to e-Travel Blackboard after officially opening MITM Americas, Mr Orillac said that figures from number one market the US had grown around ten percent in the last year despite the States still enduring a recession.
"It's about perception and now the perception is more positive and I think the market will continue to grow," he said.
"We're putting a lot of effort into continuing to increase the US market."