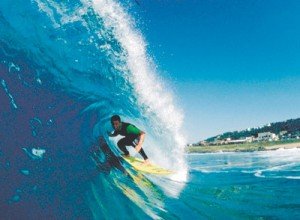 One of the most important tournaments for international surfers, the Billabong ISA World Surfing Games, will take place in Panama from June 25 to July 3, 2011. While other destinations were considered to host this tournament, ISA and Billabong were impressed by Panama because of its perfect waves throughout the year, both on the Pacific and Atlantic coast.
Panama has the experience of hosting many surfing tournaments; however, this is the first time that the country will host a major championship for this unique sport. Its strategic location, warm climate and position as a major air hub for Latin America, make Panama the ideal location for the prestigious competition, which is expected to attract more than 200 participants from 35 countries. "Panama is a suitable destination to enjoy a variety of water sports, but it is has especially ideal conditions for surfing. The celebration of the Billabong ISA World Surfing Games give us the opportunity to show the world the beautiful beaches and infrastructure that we have for all fans of this exciting activity," said Mr. Solomon Shamah, Panama's Minister of Tourism.
Panama's beaches already enjoy worldwide recognition due to the white sands and clear waters that are home to many coral reefs. Moreover, some of Panama's 365 San Blas islands in the Caribbean are completely deserted, making them ideal for experiencing full contact with nature while swimming or diving.
In addition to a wide range of hotels in Panama City and other regions, Panama offers a rich and lush natural biodiversity that positions it as an attractive tourist option for leisure travelers, ecotourism and adventure tourism. Among the various initiatives that Panama offers its visitors, is free medical insurance in case of emergency. This new service demonstrates to visitors the country's interest in assuring a smooth and pleasant visit, and reinforces the position of Panama as one of the best tourist destinations in Latin America.
About Billabong
Established in 1973 on Billabong, Billabong creates clothing, accessories and products that meet the lifestyle and surf culture. Billabong USA is located in Orange County, CA and is considered a leader in the industry of action sports. For more information visit www.billabong.com
About the International Surfing Association
Founded in 1964, International Surfing Association (ISA) is recognized by the International Olympic Committee as the organization of the Surf in the world. Has made the Open World Championships since its inception in 1980 World Youth Championship and World Masters since 2007.
About Panama-
Panama is an authentic unexplored destination with an exuberant natural habitat and an enchanting history; a gem hidden between two seas. Panama's prime location, in the center of the continent, allows it to be the main air hub in Latin America. The country offers stunning landscapes and diverse ecosystems in forests, beaches, mountains and the Canal Zone, as well as an exquisite combination of rich ethnic and colonial past favorable to the prosperity and benefits of modernity. The Panama Canal, or eighth wonder of the world, is a symbol of an entrepreneur country that besides being a logistics center for excellence, it is the most important financial center of the Americas and home to major multinational corporations and a free trade zone. UNESCO has declared the Old Quarter of the capital, Panama City, a World Heritage Site. Panama has natural attractions, services, hotels and a massive Convention Center to receive the adventure and leisure traveler, as well as the business visitors.www.visitpanama.com