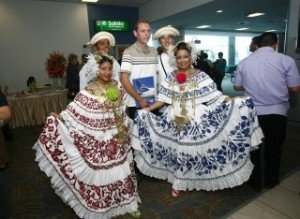 (Prensa.com) Panama announced the  launch of promotional tourism campaigns in Brazil and the U.S. (EU), to boost visitor arrivals from 2012, according to the Panamanian Minister of Tourism, Solomon Shamah.
In a panel organized by the January 25 Chamber of Commerce, Industries and Agriculture of Panama, Shamah said in 2011 about 880 thousand Brazilians applied for visas to enter EU and visit destinations such as Miami.
However, it noted that Panama offers similar products at lower travel distance and without the cumbersome visa process required by the United States. He noted that many Latin Americans are unaware that reality, due to the lack of effective advertising.
"Go for the plant (promotional campaign) in Brazil, an emerging market," Shamah outlined in the presentation of new commercials aimed at showing the world exotic locations, natural attractions and the canal.
In December, arrived in Panama are visitor number 2 million, on board a plane from the Panamanian airline Copa Airlines. To Shamah, the fact forces to improve the international tourism in this country, with an exuberant nature.
The minister noted that the American newspaper The New York Times described to Panama like the "best place to visit in 2012" and argued that this was because "visitors feel safe and free" as they walk the streets.
In fact, tourism in Panama in 2011 grew by over 12% compared with 2010, which was stimulated by the airport development which is more international connectivity, shopping tourism and the construction of new hotels on the beach.
Currently, about 350 000 cruise passengers arrive each year to ports of Panama in leisure travel.