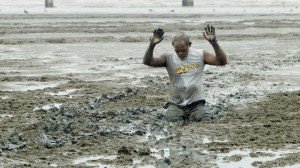 (Variety) Panama has joined the foreign language Oscar race for the first time ever with, moreover, an acclaimed film which, as the U.S. considers sending ground troops to Iraq, takes a questioning stance on the efficacy – plus humanity – of American armed intervention in foreign lands.
Panama's first Oscar submission for the Academy Awards foreign-language category, Abner Benaim's theatrical docu feature "Invasion," was the biggest hit among Central American movies at April's 3rd Panama Int'l. Film Festival.
History is normally told by its victors, but not in the revisionist "Invasion." Winner of the Mastercard Central America and Caribbean Audience Award and the Best Documentary Audience Award at PIFF, docu-feature "Invasion" narrates the U.S. 1989 invasion to oust General Manuel Noriega from the point-of-view of ordinary Panamanians, including people nearly killed in its bombing, members of its makeshift military defense, journalists, historians and ordinary but often articulate Panamanian citizens.
"Invasion" delivers telling anecdotes – including details of the incompetence and slaughter of women and children by the invaders, or U.S. airborne units parachuting onto a Panamanian beach, sinking to their knees and having to be helped out of its mud by their supposed enemy, the Panama Defence Forces. It also captures the complexities of the past: Many Panamanians wanted Noriega out but opposed an invasion.
"Invasion" also examines what appears to be near collective amnesia about exactly what happened. One example: Benaim receives no conclusive answer to such a simple question as how many Panamanians died in the invasion, a statistic which could embarrass the U.S. whose government presented the operation at the time as a swift, clinical exercise in modern warfare.
Having transfixed Panamanians at its PIFF world premiere, "Invasion" will be released in Panama Sept.18 in what Benaim described as "every cinema in the country."
The first official Oscar entry from Panama, whose GDP growth of an estimated 7% is among the biggest in Latin America, is another sign of the country playing fast catch-up in terns of state film support for cinema. It now boasts a Panama Film Commission, production subsides of up to $700,000 per movie, 15% rebates on a foreign shoot's local spend, a Panama Festival which rapidly emerging as the highest-profile in Central America, and a Meets Latin American Co-production Forum that in its first edition attracted a good spread in international industry attendance including a bevy of Hollywood industry players such as talent agents William Choi at Management 360, UTA's Charlie Ferraro and Keya Khayatian, Participant Media's Erik Andreasen, Zero Gravity's Tai Duncan, and "The Departed" producer Roy Lee. The first Platino Ibero-American Film Awards took place in Panama City during the Panama Festival.