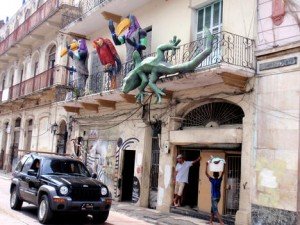 (Ottawa Citizen) "A volcanic crater?" I queried, my eyebrow raised with obvious interest. "With a town inside it!?" I considered this for a moment, still not quite sure if I had heard correctly.
Though I was lying prone on a beach chair, piña colada in hand, the earnest young man holding the brochure for his tour company now had my full attention. My wife Fionna who had initiated the conversation was standing beside him, having just returned from a swim in the azure blue ocean stretched before me. Our two children, Maya, 8 and Liam, 6, were of course oblivious to our conversation and were engaged in a boisterous, laughter-filled body surfing contest in the gentle waves washing up on our sandy beach.
"Yes boss. The second largest inhabited dormant crater in the world", came the reply from Manuel.
"It's called the Anton Valley, no more than a 45-minute drive from here."
Now, I think full disclosure is warranted here: our reason for coming to Panama was of singular purpose … to enjoy the sun, sand and surf at a beach resort in a beautiful tropical setting. And as I lay sipping my cold beverage on the first day of our trip under a scorching sun with the temperature in the mid-30s, my initial thought was mission accomplished.
As we would learn over the course of the week though, Panama had much more to offer – and we were under no illusion that we were doing more than scratching the surface in our relatively brief stay.
The Anton Valley was indeed a great half-day excursion into the jungle. The crater is about six kilometres in diameter and had been formed roughly 300,000 years ago. Today, it is a lush, verdant rainforest complete with the small town of El Valle situated within. We went swimming at the base of a waterfall, though I must come clean … I've seen bigger waterfalls along the side of the Sea to Sky Highway. However, it did empty into a beautiful clear, green natural pool that we all delightfully jumped into for a refreshing dip.
Perhaps the most interesting find we made was only a 15-minute walk down the beach from our resort. In 1989, the American military invaded Panama and captured the country's dictator, Manuel Noriega. Twenty-four years later, Noriega's ruined, graffiti-covered residence is still just sitting there, quite literally steps from the beach. We were able to walk through all the rubble-strewn rooms, and though we were tempted, we dared not climb the crumbling spiral staircases that were still (barely) standing.
Like many people I'm sure, the one thing we did know about Panama before we embarked on our trip, is that there is a rather famous canal there. The Panama Canal was built in 1913 and has served the world as an invaluable shipping route, giving ocean-going vessels the option of not having to voyage around the southern tip of South America. The canal itself is 77 kilometres long and connects the Caribbean Sea with the Pacific Ocean. There is an elevation difference of 26 metres along the canal, and herein lies its most impressive feature: a series of three locks that allow ships to be raised and lowered to traverse the waterway.
We were fortunate enough to be standing on the observation deck of the Miraflores Lock just as a gargantuan cargo ship passed through. It was lowered through the lock and gate system and was allowed to continue on its journey like it was nothing more than one of the toy plastic ships Liam plays with at bath time. The Panama Canal is an absolute engineering marvel.
The most surprising aspect of the whole trip was the country's capital, Panama City. Home to 1.5 million inhabitants – roughly 40 per cent of the country's population – its incredible skyline resembles a somewhat smaller version of Hong Kong or Dubai.
In 1999, the Canal and associated revenue were brought under sole control of the Panamanian government – and at an average toll of $55,000 US per ship, this obviously adds up. It was quite evident that these profits have greatly fuelled Panama City's development and banking boom.
It is safe to say that our preconceived notions of what a Central American city looks like were completely turned on its ear.
We were greeted by amazing modern architecture and design at almost every turn even as we toured the gorgeous colonial old town. To us, this area of the city had a bit of the personality of Havana – minus the "50sera automobiles.
While we certainly received our fill of sunshine, heat and beach bars, it's the Panama we discovered off the resort that will continue to resonate in our minds long after our tans fade.