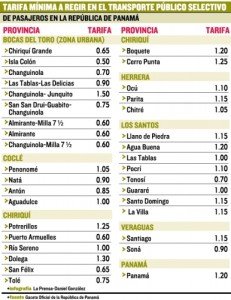 (Panama Digest) Now that the new fare schedule is here, taxi drivers could be applying hikes as early as this week.
Rates will increase by five to 20 cents in Panama City's seven transportation zones, extending from the Amador Causeway to Costa del Este. The minimum fare is now $1.20 instead of $1.00 and extra charges apply, including 50 cents per additional passenger and 30 cents on Sundays and holidays. Adjustments have also been made to the rates in rest of the country.
To make sure that passengers and drivers are on the same page, cabs are required to carry a non-counterfeited fare schedule with the Transit and Ground Transportation Authority's logo and a picture of a taxi on the back.