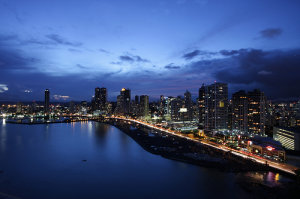 If you think that International Living paints only rosy pictures or only tells you about the opportunities and goody-goody side of expat life, you haven't been paying attention…and you surely haven't attended an International Living live event.
Like the just-ended 2011 International Living Live and Invest in Panama Seminar. You might have thought it was "Panama Exposed and Uncensored" day today….
"International Living has guts – because they let me speak and they have no idea what I'm going to say." So said octogenarian Al Fine this afternoon.
Al's a perennial favorite speaker at International Living Panama events because of his penchant for telling it like it is. It doesn't hurt that he has a keen wit and a fondness for off-color jokes. Who doesn't like to laugh at someone else's expense?
This time around the joke was on Al…and his wife Carmen….and other people's wives… Listen in to Al's hilarious sermon on life in Panama and see what I mean. Remember, we're recording every presentation and questions and answer session at this event…all 39 of them…and in just a minute I'll tell you how you can listen in to these recordings.
Al received a rousing hand of applause and gratitude at the end of his spiel…and it wasn't for his age. He's 83. ("I've got one foot in the grave and another on a banana peel," he said.)
They Said He Was Too Old for a Perfect Retirement – But Look at Him Now!
He is inspiring….he walks slowly with the help of a cane… he moved to Panama eight years ago after his insurance company told him he was too old for the hip replacement surgery he needed. "If he can make the move from the US at age 75 and live ever happily after  in Panama, well I guess I can, too," one man said to me over cocktails a few minutes ago.
But Al doesn't see himself as a role model or trailblazer. He sees himself as a guy who's finally found the good life and respect he deserves after a lifetime of hard work…but in a country that's not his own.
"I'd like you to change your thinking," he said. "We have some problems in the States…unemployment and the housing market… Forget that for a moment. Panama has more beauty by accident than most places have on purpose."
And the beauty isn't just physical, Al says, it's the generosity of the people. They smile, they hold the door for you, they take the time to speak to one another and help each other…
Of course, it's not all roses and sunshine, Al says. He shared some of the downsides. (It's a small country that loves to party – you don't like loud music and laughter 'til five in the morning? This might not be your place.)
But thanks to his Pensionado Visa and his jubilado (retiree) discounts, Al spends $2 for a movie, $4 or $5 for a four-course meal, and he's cheerfully ushered to the front of the line just about everywhere he goes, including banks and government offices.
I call Al the "George Burns of Panama." And I call Harry Hunt, another expat who took the stage this morning, the "Pied Piper of Boquete." Boquete is the mountain town that offers an abundance of flowers and cool (but never cold) weather. I was lucky enough to visit there before the conference and if Boquete isn't paradise it's darn close.
The reason I call Harry the Pied Piper is because after he speaks about his lifestyle in Boquete he's always flocked with a crowd that's ready to follow him there. This year, Harry is spending more time at his beach house, less than two hours from Boquete. He paid a pittance, he says, for a huge tract of beachfront, with a house (I promised I wouldn't tell where it is but you'll learn the name when you listen to the recordings.)
"There are two Panamas: the modern Panama and my Panama," Harry says. "My garbage disposal has a tail and my dishwasher wears a dress."
Both Harry and Al talked about their favorite person in the world…the housekeeper. In Panama your housekeeper becomes like a family member, they say. (And by the way, she charges $10 per day…and that's a good living wage here so you can imagine how inexpensive it is to live in Panama.)
Harry also shared the challenges of living in Panama, as did Steve Johnson yesterday. But would they trade in life in Panama and go back home? No way, not a chance.
By the way, both Harry Hunt and Rosalind Baitel, who spoke about health care in Panama, are cancer survivors. They credit the doctors in Panama with saving their lives. You really should listen in to their incredible stories….
Word to the wise: If you're considering a move to Panama, understand your health care and insurance options. Insurance expert Dorothy De Sing and hospital administrator Manuel Granados explained the best options for coverage – and wow, how affordable!
Your No-Risk Way To Catch Up and Learn What We've Learned This Week
There's so much more I want to share with you. But after three days and 39 presentations, it's tough to pull out the gems…there was so much good advice. And believe me, there were no holds barred. You want to learn what life in Panama is really like?
Get your hands on the recordings from this seminar.
In fact, let me explain how to get every bit of the important information from the Live and Invest in Panama Seminar…
The Next Best Thing to Being Here In Person
Just today we heard from Aisha Thompson who explained how to efficiently and cost-effectively receive mail and other goods from the U.S. and Canada. It's easy to get the necessary health permits to allow your special medications and vitamins sent from home, she said.
Jeff Duda gave us the inside scoop on rental properties. Where to find them, how much to pay, etc. Importantly he explained how much income we might expect to earn if we buy a property and wish to rent it out. And how to evict a bad tenant. Don't buy before you hear Jeff's advice. (Expat Ellen Ring spends $80/month to rent her home in a spot she says has the world's best climate…listen to Ellen's presentation to find out where.)
Would you like to build the house of your dreams? Don't miss what Carlos Duncan has to say. And check out his very cool construction calculator. You plug in the sizes of rooms, terraces, swimming pools and it spits out your projected costs – wow. Carlos also explained what to look for in a contractor and how the payment plans work (including what percentage to pay to start work); and much more — like how to make sure your project is in compliance so you avoid fines. Important stuff.
Panama – The Good, the Bad and the Ugly
By the way, Canadians Doug and Linda Mannell are in the midst of a construction project right now. They showed photos and shared details of the process…the good, the bad and the ugly. If you're thinking of building or remodeling a home in a foreign country, don't miss their advice.
And there was so much more we've learned over the last three days… Countless pointers, tips and contact info that you can use right away…
As I've explained in my previous dispatches from the seminar, we're putting together a complete package of nearly everything that's happening at this event. We're making audio recordings of all 39 of the presentations. I tallied it all up – that's 17 hours and 50 minutes worth of valuable, actionable information coming your way.
We're also making copies of the handouts, PowerPoint and visual presentations. And you get the complete dossier we give to each attendee when they showed up here in Panama City for the Live and Invest in Panama Seminar.
We call it our 2011 Fast Track Panama Package. And we guarantee it will help you fast track your plans of moving to…or investing in… Panama.
Reserve the 2011 Fast Track Panama Package at the lowest price available.
The full price to attend this sold-out event was $1,095—but you can secure yourself a copy of the 2011 Fast Track Panama Package for only $199… a very small fraction of what attendees paid to join us here in Panama City.
To sweeten the deal, we're throwing in a $100 voucher toward the next Live and Invest in Panama seminar. Use it to attend next year's live program (or any future event or seminar you may be interested in). Please, please, please join us at a future event – there is no substitute for being here in person, although these recordings (at nearly 18 hours) are the next best thing.
Remember, this is a limited time offer only.
Once the 2011 Fast Track Panama Package is available for download and the initial orders have been placed, we'll increase the price to $349.
The discounted price includes:
Audio recordings of all our Panama experts' presentations
Copies of all hand-outs and slideshows
Plus a special bonus report, titled: Vibrant, Affordable, Cosmopolitan Panama: Property and Lifestyle Secrets for 2011 (This report is only available to conference attendees and to you…when you order the Fast Track Panama Package.)
And a $100 voucher toward any of our future conferences anywhere, any time. There is no expiration date on this voucher!
Reserve your copy today by completing our secure online form and save $150 on the 2011 Fast Track Panama Package
Again, we'll only offer this low price until we have the recordings ready to deliver. At that point… we'll charge the full price of $349. There isn't a more affordable time to reserve your copy.
This special conference discount is only available until we're ready to deliver the recordings to you. After that, we'll charge the regular price.
I'll send the information about how to obtain your 2011 Fast Track Panama Package as soon as we're finished making copies of the recordings, the handouts, the PowerPoint presentations, etc.
If This Information… These Insider Secrets and Hard-Earned Advice… Don't Work, You Pay Nothing
This is your best chance to fulfill your dreams in Panama, whether it's to:
Enjoy a comfortable, secure (and utterly relaxing and affordable) retirement
Own a second home in exciting Panama City, on the beach, or in Panama's glorious mountainous countryside
Start that business you've been dreaming about, or
Successfully invest in one of the world's most attractive retirement havens…