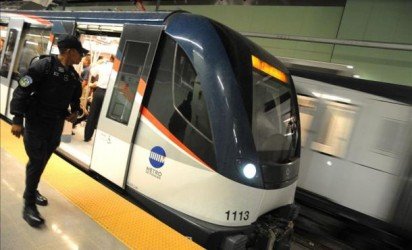 (Lapresasa.com) The Spanish companies involved in construction of the Panama City metro, to be inaugurated Saturday evening, said the project was delivered in "world record" time and within the budget constraints.
"This is a world record. No one has built a project like this in such little time," Jose Luis Manzanares, CEO of Barcelona-based engineering firm Ayesa, told Efe during the final trial run of Central America's first subway system.
Two other Spanish companies, Transports Metropolitans de Barcelona and Spanish construction firm FCC, also participated in building the Panama City metro's Line 1, which will begin operating on Sunday.
"Besides the outstanding compliance with the agreed timeframe and delivering it in just over three years, the construction of this metro is unprecedented because it was completed" without any cost overruns, TMB CEO Joaquim Forn, who is also Barcelona's deputy mayor, said along the route.
FCC Chairwoman Esther Alcocer Koplowitz also took part in the test run.
Forn told Efe that the construction and launch of the Panama City metro "has been an example of the perfect effectiveness and coordination among the different companies that participated," including Brazilian construction group Odebrecht.
The $2 billion subway system has been one of Panamanian President Ricardo Martinelli's flagship projects.
It is part of a public-transport modernization plan for the capital that also includes ongoing construction of roads, tunnels and overpasses.
The metro's Line 1 stretches for 13.7 kilometers (8.5 miles) and has 13 underground and above-ground stations. A total of 19 three-car trains will provide service, covering the route in a maximum time of 23 minutes.
Each train will be equipped with air conditioning, video monitoring, passenger information systems and designated areas for disabled passengers.
The metro was officially delivered on Feb. 28 but demonstration and test runs needed to be carried out to get it ready for public use.