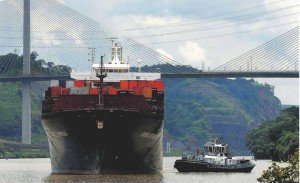 (Mysanantonio.com) The deepening and widening of the Panama Canal will have a ripple effect on shipping throughout the world, but what happens in Texas depends on the various ports, officials said Monday.
When larger ships start routinely crossing the canal in 2015, long-haul container ship routes will change because they will be able to make more all-water deliveries, said Rodolfo Sabonge, the canal's vice president for market research and analysis. He was in San Antonio as a keynote speaker for a conference of the Federation of Freight Forwarders, Logistics Operators and Cargo Agents of Latin America.
Ultimately, the canal's influence in reducing costs for consumers will expand because of the widening project, Sabonge said.
"With the larger vessels, we are looking at lower costs for importers in San Antonio, like H-E-B," said Jorge Canavati, Port San Antonio's business development vice president. "The bottom line is better costs."
The efficiencies will come because freight from Asia can move to Texas entirely on water instead of through a combination of ships, rail and trucks.
The canal's deepening and widening will allow the passage of container ships carrying 12,600 typical-sized containers, and perhaps as many as 14,500, — up from the previous limit of 4,800, Sabonge said.
The canal's enlargement will be completed in 2014, after a recent six-month construction delay. But with another six months needed for testing and to train personnel, the port will open the canal to the larger ships on a routine basis in early 2015, Sabonge told about 175 members of the organizations, which goes by the name ALACAT.
In addition to new routes for seafaring cargo ships, the canal's larger capacities will result in new rail lines and roads for ports taking deliveries from the larger ships, new shipping rates and an increase in transshipments, in which cargos of the larger ships will be divided onto smaller ships for delivery to ports not able to accommodate the largest container ships, Sabonge said.
The Port of Houston Authority, with a 45-foot-deep channel, is preparing to receive container ships with up to 8,500 containers, which is larger than those now passing through the canal, said Ricky Kunz, Port of Houston's vice president for trade development and marketing.
Without a 50-foot channel depth, the Houston port will not be able to accept fully laden container ships carrying more than 8,500 containers, Kunz said. "But 8,500 (containers) will be all the Gulf (of Mexico) can handle anyway," Kunz said. "Cargo already is being diverted from the West Coast to the Gulf. We are building to meet the market demand," he added.
The Port of Corpus Christi, also with a 45-foot-deep channel, will dredge its channel in about 10 years to get to 52 feet, but not just to accommodate the largest container ships, said John LaRue, the port's executive director. Specifically, the port hopes to use the channel for large ships to export U.S. grain and coal, some of it bound for Asia, through the Panama Canal, LaRue said. "That would be better for the U.S. economy," he said.
The federal government might be willing to foot about $200 million of a $370 million dredging project, LaRue said. "We need a cargo base to support" and finance the remainder, he said.
The port will see higher volumes of cargo because of the Panama Canal widening through transshipments. With lower ocean-shipping costs, the railroads will work to cut their costs, too, to compete with overland routes, LaRue said.