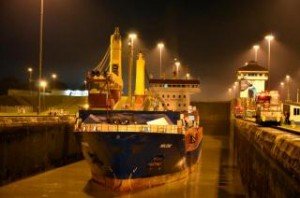 (Prensa.com) For transited the Panama Canal in fiscal 2011, which ended September 30, 322.1 million tons, which marked a record tonnage traffic, reported Sunday the Panama Canal Authority (ACP) .
Preliminary figures indicate that the ACP Panama Canal closed fiscal 2011 with 322.1 million tons PC / UMS, which is the Universal Measurement System Ship Panama Canal, volume method used to measure the capacity of ships transiting the waterway.
The figure represents an increase of 7.1% compared to 300.8 million tonnes recorded in fiscal 2010, while 2.9% exceeded the previous record of 312.9 million tons set in 2007.
"This is an unprecedented achievement in the 97 years of operation of the Canal that specifically reflects the ability of Panamanians to operate and manage this important maritime trade route," said ACP Administrator Alberto Zubieta German.