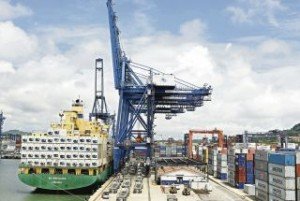 (Channelnewsasia.com)  A record amount of cargo crossed the Panama Canal over the past 12 months, largely fuelled by economic growth in Latin America, the waterway's top administrator said.
Nearly 334 million tonnes of cargo crossed the canal during fiscal year 2011 — which ended September 30 — a jump from 322 million tonnes the previous year, said Panama Canal Administrator Jorge Quijano.
"The canal no longer solely depends on the world's main economies," Quijano told AFP.
Washington was the canal's main customer, with Quijano estimating that 144 million tonnes of goods crossed the canal in fiscal 2011 either destined to or coming from the United States.
Second was China (53 million tonnes), followed by Chile (28 million) and Japan (22 million).
Other important canal users were Peru (15.2 million), Colombia (14.7 million), Ecuador (14.5 million), Mexico (12.2 million), Panama (12 million) and Venezuela (9.3 million).
The canal is currently undergoing a $5.6 billion expansion that will allow it to accommodate ships that can carry up to 12,000 containers. Currently, the largest ships that can navigate the canal can carry up to 5,000 containers.
Nearly 45 percent of the canal expansion project has been completed, Quijano said. The project is scheduled for completion by late 2014.
Some five percent of international commerce passes through the waterway, an 80-kilometre (50-mile) stretch connecting the Atlantic and Pacific oceans.
More than one million vessels have crossed the US-built canal since it was inaugurated on August 15, 1914.
The United States handed canal ownership to Panama on December 31, 1999 after managing it for 85 years.