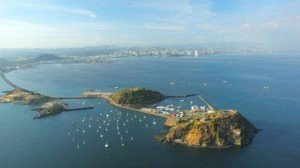 (Fox News Latino) Panama City, Panama  is a hotbed of cultural contradictions, taking on a different personality depending on where you look.
Today, for instance, the city is considered the finance capital of Central America as well as the region's most modern capital, while 16th century Spanish ruins from the city's first settlers are a short distance away.
While English and Spanish are spoken, both metric and English systems are used: Gas is measured in gallons and body weight and bananas are in pounds, but distance is in kilometers and milk comes by the liter.
It's no surprise, since Spain, France, Colombia and the United States have laid claim to the country through the centuries. But this paradox is good news for visitors who want to experience both old and new on a short visit, since many travelers use Panama City as a base before heading off to other parts of the country.
First, wander through Casco Viejo, soaking up the Spanish Colonial history of this Latin-influenced city before hitting the Amador Causeway, which links the mainland to several islands and is packed with nightclubs and cuisines that rival the stunning skyline across the water.
Of course the crowning glory of Panama City is the Canal, a vast engineering feat that sliced months off the time it took ships to travel from the Pacific to the Atlantic. The best time to go is mid-morning when you can watch freighters and ships pass through the locks.
In any case, November in Panama City is a rollicking time. That's when Panama has not one but several Independence Days on the calendar. Why? So they can celebrate independence from every country that's ever owned them.