(Guardian) Chickens and scruffy children on bikes cross our path as we stroll along a sandy road past candy-coloured buildings beside a turquoise Caribbean sea. "Hey my friend!" Jim, our guide, stops to slap a Rasta man on the back. "How you been? You got your guitar today?"
"No man," says Calypso Joe, shaking his head, " … but I can go get it. You buy me a beer, and I play some guitar."
Ten minutes later we're on a rickety wooden platform above gentle waves, behind a shack of a cafe, beers in hand. Joe, in his 50s and wearing a palm tree-patterned shirt, strums calypso rhythms, the kind introduced to these islands by the African-Caribbean workers brought in by the banana plantation companies.
Islands in the Sun follows some Beatles, but then he whips out the good stuff, his own material: "If your mother and your wife was drownin' well, which one would you be savin'? You can always find another wife, never get another mother in your life!"
Caribbean calypso culture is not what one might expect to find in Panama, but then what is? Aside from hats, a big canal, and the "canoe man" couple behind the fake-death insurance scam, most of us know very little about the end of the Central American isthmus. Without the Mayan ruins and markets of Guatemala or the famous surf resorts and hotels of Costa Rica, its attractions are little-known.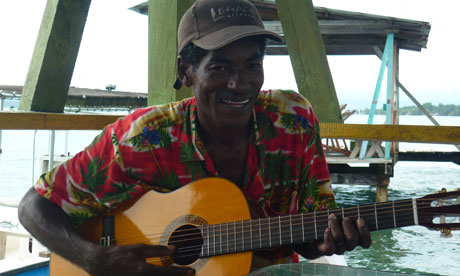 Calypso Joe
Yet Central America is the place backpackers currently want to boast about having been to. Tom Hall of Lonely Planet has called "Nic-Pan" (Nicaragua and Panama) one of the fastest growing backpacking destinations in the world. Conde Nast Traveller and the New York Times named Panama one of the hottest destinations of 2012, and several UK tour operators are pushing it this year as a perfect "first time to Latin America" destination.
The redevelopment of Panama City's Casco Antiguo, a huge project to restore the attractive colonial district, is a major factor – it has brought in bohemian bars, stylish restaurants, craft stores, and boutique hotels such as the new Casa Del Horno, a revamped townhouse with designer suites and black and white photography.
But it is Panama's wild nature that is increasingly drawing in tourists, and the most popular destination now is Bocas del Toro, a group of 68 Caribbean islands 32km from the Costa Rican border, where primary rainforest meets the sea. Beautiful beaches, surf breaks and a backpacker scene attracts independent travellers to Bocas Del Toro town on Isla Colon, while nature-fanatics head to several ecolodges on the nearby islands and promontories, which have opened in the last few years.
One of the most special is Tranquilo Bay ecolodge on Isla Bastimentos. I travel there via a 25-minute motorboat ride from Bocas town across a calm bay slung with low-lying, thickly forested islands. Despite its popularity, Bocas feels like a sleepy backwater. Porpoise and flying fish leap from the sea, sloths sit high in the trees, and crabs scuttle ahead as we follow a wooden walkway above a mangrove from a private jetty to the lodge. I try to put the "day beds and rum cocktails" image of what a Caribbean island should be out of my mind. Here, the jungle is too thick to cross on foot, so the white sand beaches and island town of Old Bank, where Calypso Joe plays his tunes, are only accessible by boat.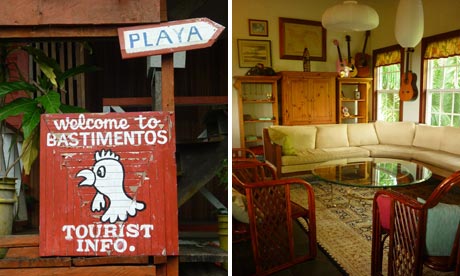 Isla Bastimentos and, right, the lounge at Tranquilo Bay
Once my mum (yep, I'm putting the Ma in Panama) and I have settled into our cabin in the gardens, we polish off a breakfast of eggs, beans, pineapple and guanabana juice, while watching hummingbirds flit around the veranda.
Iguanas, capuchin monkeys, sloths, anteaters, boa constrictors, armadillos and zillions of rare birds live here. This region is more biodiverse than almost anywhere else on earth. Panama has 125 endemic animal species, 218 mammal species, 226 reptile and 950 bird. Bocas is particularly special because three ecosystems meet: mangrove, reef and rainforest. "Wherever there's edge, species thrive," says Jim, one of the American owners of Tranquilo. "There are different species on different islands here. Toucans on some, but not the next, as they won't fly more than a kilometre over water."
Within minutes of walking out of the lodge, we see a double-toothed kite, black-checked woodpecker, warblers, blue-headed Amazons, a white hawk, a pale-billed woodpecker. I'm no twitcher but the way Jim suddenly halts and hisses, "Ssshhhh! Look! Wow! You are so lucky! These are so rare! We hardly ever see these!" is infectious.
For five years Jim and Jay, the other owner, lived in the jungle under a tarpaulin, building their dream lodge. When they arrived in 2000, there were only 10 expats in Bocas. They convinced their wives to move down and started families, and now Jim and Rene are home-schooling their kids, while Jay's family lives across the bay in Bocas. Jungle living is tough, and we wonder if the reality lives up to the dream; the way they talk non-stop to their guests and make every meal communal suggests they might be a bit lonely. They are very knowledgeable, but we feel we'd rather learn about Panama from Panamanians than Texans. So the next day we visit Popa Island to meet the Ngobe-Bugle, the largest of Panama's seven indigenous groups. They own farm land, live well and have a high degree of political autonomy. We buy beaded bracelets in one of their palapa huts, see crops of yuca, coconut and noni fruit, but are ignored by everyone except our guide, who takes us on another jungle walk. As tourism experiences go, it isn't mindblowing, but the lack of interaction feels less exploitative.
Other days we kayak and snorkel above tropical fish, football-sized sea urchins and luminous jellyfish, and spend an afternoon on Isla Colon, shopping for toucan-patterned bags and lying on Bluff Beach. Then we're off on our whirlwind tour of Panama to the coffee town of Boquete, a few hours away in Chiriquí state. The drive passes the Continental Divide, jungly hills and nature reserves, ending at the pretty hill town, full of flowers and coffee shops selling world-class, locally grown brands.
We visit 90-year-old Cafe Ruiz's plantations and factories, learning that we should always drink high quality, freshly ground beans because instant coffee is usually made from "floaters", the empty husks of coffee beans ("We call Nescafe 'no es cafe'!" laughs our guide, Carlos), and that coffee tasters are as discerning as wine-makers.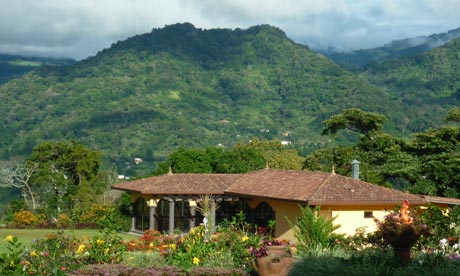 Los Establos B&B
There are lovely walks here, around (or up) Panama's highest mountain, Volcan Barú, and along the Quetzal Trail, named after a spectacular local bird. We relax in the gorgeous gardens of our hilltop B&B, Los Establos, eat corvina fish cerviche and chicharrón pork belly at luxurious Panamonte Inn & Spa, and cheap, tasty rice dishes in local workers' cafes, such as Sabrosado.
It's lovely, but slightly downbeat, despite all the caffeine. Depressingly, developers have bought many of the fine coffee plantations to turn them into gated communities for American retirees, and the local government plans to paint the town's colourful buildings a matching light brown. Boquete's charm seems at risk, but for now, it's a pretty spot.
Whether it's charming enough to justify Panama's hype as a hot new destination, I'm not convinced. To be fair, it was rainy season, but these "highlights" felt like somewhere you'd go on your way to somewhere else. There is a lack of vibrant culture found in other Latin American destinations, and yet, there are gems. With more time we'd visit Chiriquí's hotsprings and pre-Hispanic ruins, the colourful city of David, the amazing-sounding San Blas islands, autonomously run by the Kuna Indians in the Caribbean, and pristine Isla Coiba, in a marine reserve in the Pacific. And I wouldn't have missed Calypso Joe, and all that incredible nature.
• Rainbow Tours (020-7666 1260, rainbowtours.co.uk) provided the trip. A week's B&B, including the De Ville hotel and Casa del Horno in Panama City, Tranquilo Bay (tranquilobay.com), Los Establos (losestablos.net), return flights from London, domestic flights and transfers, costs from £2,255pp. Holiday Extras provided a night at a Heathrow hotel, from £55 (holidayextras.co.uk)